General Hospital Spoilers Wednesday, August 16: Gladys Panics, Selina's Greedy Grab, Cody Desperate, Michael Spies
General Hospital spoilers for Wednesday, August 16, 2023 reveals Willow Corinthos (Katelyn MacMullen) gets good news. Michael Corinthos (Chad Duell) watches Dex Heller (Evan Hofer) in action.
Trina Robinson (Tabyana Ali) opens up to Spencer Cassadine (Nicholas Alexander Chavez). Gladys Corbin (Bonnie Burroughs) stifles Cody Bell (Josh Kelly).
Sam McCall (Kelly Monaco) moves in a new direction. Selina Wu (Lydia Look) makes Curtis Ashford (Donnell Turner) an offer.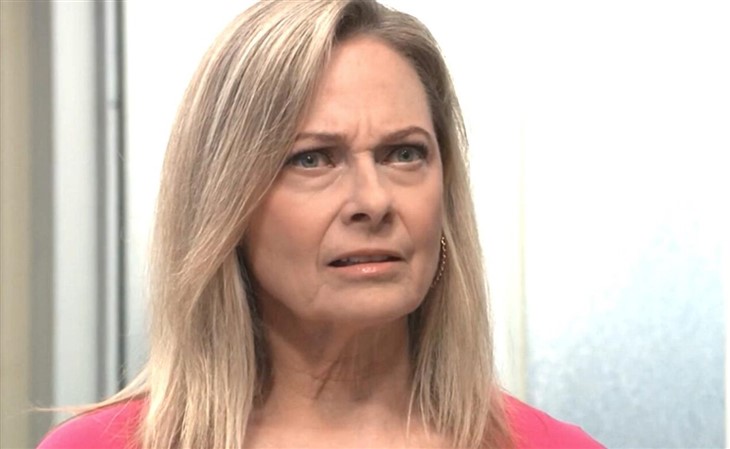 General Hospital Spoilers – Wednesday, August 16, 2023: Willow Tait Welcomes Good News
Willow is going to be the happy recipient of some good news that may have a life-changing impact on the whole family. Is she about to receive a clean bill of health?
General Hospital Spoilers – Say Michael Corinthos Has An Eye On Dex Heller
Michael spots Dex tailing Betty Rutherford (Ella Lentini) and Donna Corinthos (Scarlett Spears) and will know this can't mean anything good.
When he puts Dex on the spot and asks why Sonny Corinthos (Maurice Benard) has him following Donna's new nanny, will Dex be transparent with Michael — knowing he'll probably run back and tell Carly Spencer (Laura Wright) everything?
GH Spoilers — Trina Robinson Confides In Her Beau
Trina has been busy confiding in Dex lately, but that doesn't mean she doesn't have time for her own man. Will Spencer provide the same comfort and reassurance that Dex did though?
General Hospital Spoilers – Hint Gladys Corbin Smacks Cody Bell Down
Gladys is stressed to the max over Cody's involvement with Sasha and she's desperate to make sure she puts a stop to it. Will she be able to by reaching out to the police? Perhaps Dante Falconeri (Dominic Zamprogna) can help?
GH Spoilers — Sam McCall Is Onto Something
When Cody stresses how much trouble Sasha is in and that he needs Sam's help more than ever to get through the walls Gladys is building up around her, Sam is going to oblige his request. Let's be honest, she's never liked Gladys anyway!
General Hospital Spoilers — August 16 — Curtis Ashford Receives An Offer
Curtis will be stunned when Selina swings by to check in on him. Of course, she's not there because she is concerned about his well-being after being shot.
Rather, she wants to make sure her games at The Savoy aren't interrupted. When she offers to take the place off his hands, will he feel relief — or offended?
Which storyline are you most looking forward to following on GH on Wednesday, August 16th? Let us know, and keep checking back for more General Hospital news and spoilers.