General Hospital Spoilers: Will Spencer Make A Wifey Out Of Esme Just To Hang Onto Ace?
General Hospital spoilers hint Nikolas Cassadine (Adam Huss) claims he's headed to Europe, but so far, it's anyone's guess. He could have been throwing Austin Gatlin Holt (Roger Howarth) off his trail just so he could inch closer to Ava Jerome (Maura West).
General Hospital Spoilers — Nikolas Cassadine Is Alive!
When word gets out that Nikolas is alive — which he seems intent on making sure of — Spencer Cassadine's (Nicholas Alexander Chavez) concern will shift from a getaway with Trina Robinson (Tabyana Ali) to how to get away with keeping Ace Cassadine (Jay and Joey Clay).
It won't take long for Spencer to realize he can't go on the run with his baby brother, but Esme Prince (Avery Kristen Pohl) could hold all the answers to Spencer's every anxiety. There's just one catch. They'll have to get married.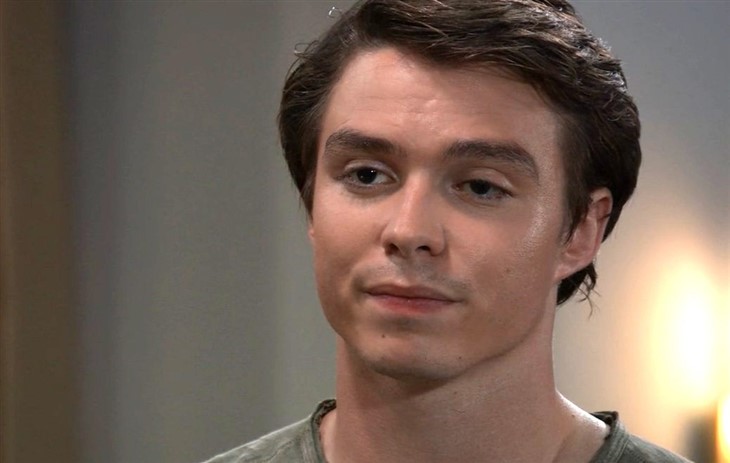 General Hospital Spoilers — Nikolas CassadineCould Claim His Son
This is going to hurt two-fold. Not only will Nikolas come back to reality after six months away claiming that he has every right to claim his child, but it's not going to be lost on Spencer that his dad hasn't changed a bit.
It wasn't that long ago that Nikolas disappeared, leaving Spencer and everyone else who knew him to believe he was dead.
He stayed in the shadows for four long years while Spencer grieved the loss of his father — only to come back later expecting a happy reunion and instant forgiveness.
This time around, Ace is just six months old and would never remember his dad was missing from his early life.
Can Nikolas just waltz right in and pick up where he left off — taking Ace from his mother and robbing Spencer of the relationship he has formed with his baby brother?
Spencer will be worried enough about that scenario to take some seriously drastic actions to prevent it.
GH Spoilers – Spill Esme Prince Isn't The Best Parent, On Paper
Sure, Nikolas has been missing in action, but Spencer knows how well his father can woo a judge — or pay them off.
He doesn't expect that his father will ever have to actually pay for his crimes either, so being a wanted man isn't a concern in his mind or something that will keep Nik out of town for good.
It wouldn't be hard for his dad to go up against Esme in a courtroom and prove that he is more fit than she is to retain custody of Ace.
If Spencer is going to prevent his father from destroying Ace's life the way he feels he destroyed his, he'll have to grow even more committed to his relationship with his brother than he ever thought possible before.
Months ago, he would have scoffed at the idea of hitching himself to Esme's wagon; he could barely tolerate the thought of living with her.
Now, things have changed. He's seen a different side to Esme, and he doesn't inherently dislike it either.
Esme might not be great competition for Nikolas in the parenting department, but could two parents trump one?
READ THIS: Find out what happens next on General Hospital.
General Hospital Spoilers — Here Comes the Bribe
A marriage of convenience isn't a new storyline on GH, but getting hitched to hang onto baby Ace sure is! Spencer and Esme already live together, but they are under Laura Collins' (Genie Francis) roof.
Moving out and getting a place of their own together wouldn't necessarily paint them as a better option compared to Nikolas and whatever castle he lands in.
Rather, they'll have to make a good case as to why their happy family home is the best one for Ace, and that could start with making sure it appears as though it won't be disrupted.
Any inclination that Spencer might leave Esme and Ace behind just like his father has won't bolster their argument.
Is the antidote to that problem going to require that Spencer leave Trina in the dust to marry Esme and promote the image of the nuclear family that the court loves to see?
We wouldn't put anything past them at this point. Is Spencer desperate enough to retain his place in Ace's life that he would ante up in such a dramatic fashion to make sure he's not pushed out?
Stay tuned for more GH news and spoilers to see how this plays out.
For more about what's happening on your favorite soaps and more ways to connect with us, join the conversation on our Facebook Page, check out our Twitter feed, look for an update on our Instagram, follow us on Threads , Always stay up-to-date with us on Google News, or drop us an e-mail HERE! See you there!