General Hospital Spoilers: Willow Hounds Brad – Baby Swap Truth Set To Surface Soon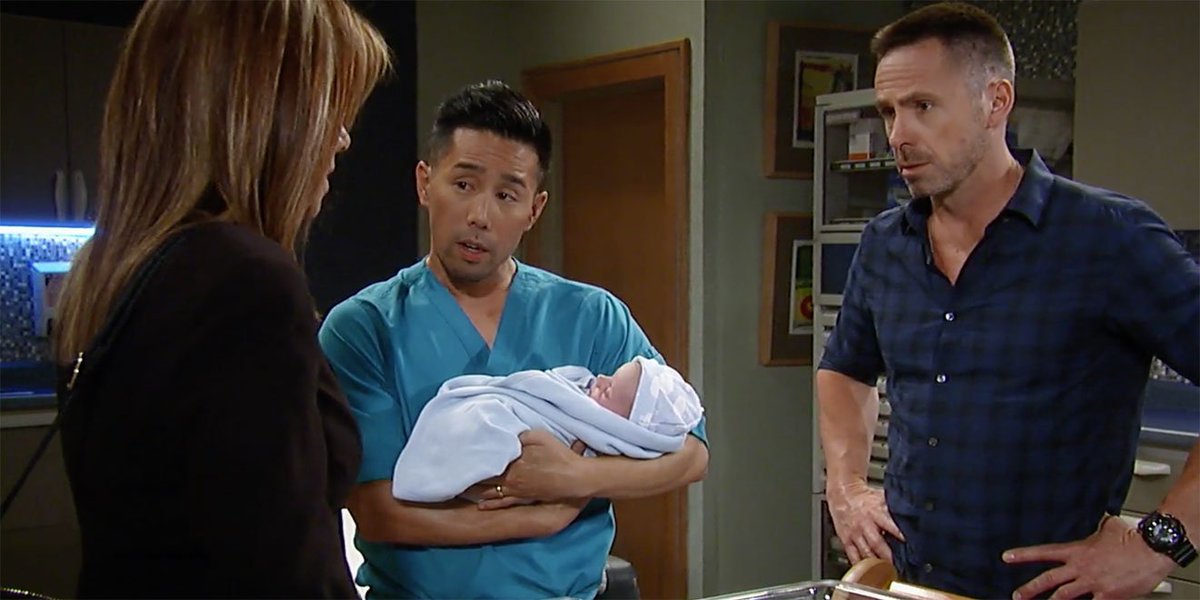 General Hospital spoilers tease that Brad Cooper (Parry Shen) may have another near altercation with Willow Tait (Katelyn MacMullen) over Wiley (Eric and Theodore) as they encounter each other once again. Willow has been increasingly desperate to have contact with the child she thinks is the one she gave away, but actually is not – as Brad well knows!
Julian Jerome (William DeVry) has tried to intervene a couple of different times, telling Willow to stay away, but she always leverages him with the fact that he's not supposed to know she's the birth mother anyway and it was illegal for him to snoop in the adoption file.
General Hospital – Brad Is Becoming Very Paranoid
Meanwhile, Brad gets more and more paranoid every time he sees her anywhere, because he also knows that she is the birth mother of the original Wiley, who sadly passed away soon after he was born. But he swapped him with Nelle Benson (Chloe Lanier) who had given birth that same night and whom he encountered on the road.
Brad has a lot to be afraid of concerning Willow, but at least she so far has no clue that her baby is dead and that Wiley is really Jonah Corinthos. But with Michael Corinthos (Chad Duell) as the baby's real birth father and his godfather, Brad never knows when the truth could come out. Any number of things could happen that would expose the baby swap secret.
Even if Nelle doesn't decide to play her trump card for some reason, the baby could develop a disease or need blood or there could be some other medical reason that his blood would have to be tested, and results reveal relation to the Quartermaines.
General Hospital – The Truth Will Come Out Eventually
What if something happened like what happened to baby Danny Morgan (T.K. Weaver), which ultimately revealed Julian Jerome as his mother Samantha McCall's (Kelly Monaco) birth father, after he needed a lifesaving bone marrow transplant!
General Hospital Star Carolyn Hennesy Joins Another Primetime Series#GHhttps://t.co/EQPocDj0G7

— SOS/CTS/HH (@SoapOperaSpy) March 12, 2019
Eventually, "the truth will come out" as it always does; the question is, will it be sooner or possibly many years later? Brad could lose his mind over the anxiety of it! Stay tuned to GH and keep checking General Hospital spoilers frequently to see all the latest developments and news regarding the baby swap and all the other storylines!
Read more news, spoilers, and gossip on our Celebrating The Soaps General Hospital home