General Hospital Spoilers: Monday, March 11: Jordan's Got A Donor – Will Jason Save Ava And Carly?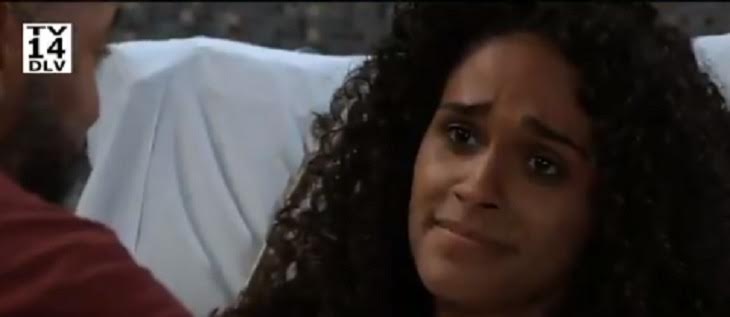 General Hospital spoilers for Monday, March 11, tease that Laura Webber (Genie Francis) and Jason Morgan (Steve Burton) will be stunned and horrified as Ryan Chamberlain (Jon Lindstrom) flings himself and Ava Jerome (Maura West) over the footbridge. Of course, Ava's still under the belief that she's in the company of Kevin Collins (Jon Lindstrom), who's undergone some sort of breakdown. But as she goes tumbling over the ledge, she'll likely realize that she's been with Ryan all along.
Of course, now the race will be on to save Ava. Will Jason have grabbed Ava's arm on the way down? It doesn't seem like anyone could survive that fall, and if Ryan goes into the icy water below then he may be presumed dead.
After the footbridge ordeal, Jason's thoughts will immediately turn to Carly Corinthos (Laura Wright), who is shown in Monday's preview lying unconscious once again out in the cold. It looks like her climb up the wall didn't go so well and she tumbled back down to the ground below. Jason will be determined to find her, but will it be in time to save both her and her unborn baby?
General Hospital – Finn Will Be Concerned About Alexis
Back in Port Charles, Hamilton Finn (Michael Easton) will swing by Alexis Davis' (Nancy Lee Grahn) house and he'll be startled to find her alone with her vodka bottle. It's been a while since Alexis drank, and the fact that she went and bought a bottle is a huge deal, even though it doesn't look like she'll drink any of it.
She and Finn will chat, and he'll wonder what she was running from when she bought the vodka. Of course, she had just had a steamy dream about reuniting with Julian Jerome (William deVry), but will she divulge this to Finn?
At the hospital, it looks like Jordan Ashford (Briana Nicole Henry) might get some good news. She's operating on just one damaged kidney right now and requires dialysis until a donor kidney can be found. But it looks like someone close to her might be a donor match…and that could be Stella Henry (Vernee Watson). "Now wouldn't that be something, a little bit of me in you," Stella will happily tell Jordan.
General Hospital – Liz Will Grill Franco About His Lie
Meanwhile, Elizabeth Webber (Rebecca Herbst) will have some issues to overcome. She's thrilled that Franco Baldwin (Roger Howarth) survived his ordeal with Ryan, and she and Franco shared some warm moments when he initially awakened, but she's going to have some serious questions for him. She'll probably wonder how he could lie to her the way that he did by pretending to be the serial killer.
Franco will probably point out that he didn't have much of a choice in the matter. Jordan made it perfectly clear that Franco was going to either go down for the murders himself or play along with her charade to flush out the real killer. Still, Elizabeth will have difficulty with what Franco did to her and the boys, and especially with what it did to Cameron Webber (William Lipton).
Finally, on Monday, March 11, Sonny Corinthos (Maurice Benard) and Robert Scorpio (Tristan Rogers) will weigh their options. Sonny will want to meet Raj Patel (Nosir Dalal) face to face and find out exactly what he wants in exchange for Dante Falconeri's (Dominick Zamprogna) return. But Robert may have other ideas about how to best go about finding Dante.
That's it. That's the tweet. @WilliamdeVry1 @NancyLeeGrahn #GH55 #Julexis pic.twitter.com/n8kVflipID

— General Hospital (@GeneralHospital) March 8, 2019
It looks like we're in for a great episode on Monday! Stay tuned to the ABC soap and don't forget to check Celebrating The Soaps often for the latest General Hospital spoilers, updates, and news.
Read more news, spoilers, and gossip on our Celebrating The Soaps General Hospital home