Neighbours Spoilers: Aaron Brennan Lashes Out At Elly Over Chloe, Mel Complicates Things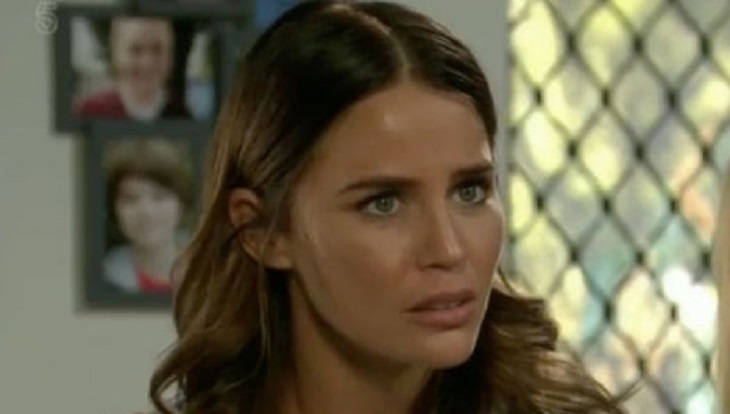 Neighbours spoilers indicate the long triangle storyline continues next week, as Aaron Brennan calls out Elly Conway when she gets involved in Chloe's love life.
Upcoming episodes see Chloe getting close to her ex-girlfriend Mel again, hoping that she will distract her from her true feelings for Elly, her brother's fiancé.
The dramatic storyline begins when Chloe agrees to attend Elly and Mark's upcoming wedding, despite the fact that seeing the woman she loves marrying someone else will be heart breaking for her.
Neighbours Spoilers – A Messy Love Triangle
Chloe further agrees to be a bridesmaid for Elly, selflessly not wanting to upset her older brother. But with her feelings for Elly growing every day, she decides to turn her attention to Mel, hoping it will be a distraction for her.
When Elly comes home one night, she is concerned to see Chloe and Mel making out on the sofa, believing that Chloe is using Mel for all the wrong reasons. As usual, Elly can't resist getting involved, and warns Chloe not to pursue a relationship with Mel unless her intentions are pure.
When Aaron finds out, and realises that Elly is against Mel, he decides to confront her in private. He warns Elly that he knows all about the situation with Chloe and if she cannot support her and Mel's relationship then she should keep her thoughts to herself.
Neighbours Spoilers – Mel Gets Involved
Things get even more dramatic when Mel finds the Christmas card that Chloe wrote for Elly, declaring her love. Both Chloe and Elly worry that Mel will tell Mark everything, but surprisingly she agrees to keep the information to herself.
What could possibly be going on for Leo and Elly to be hanging out? #Neighbours @JodiAnasta @Tim_Kano pic.twitter.com/CQdxtwmJbW

— Neighbours (@neighbours) February 5, 2019
Mel is determined to win Chloe back and show her that she's a changed person. When Mel's maturity impresses Chloe she agrees to start afresh and get to know each other properly again.
But can Chloe really forget about her feelings for Elly?
Tune into Neighbours on Thursday 7th and Friday 8th February to watch these scenes unfold.
Check out our exclusive Neighbours spoilers page for more details!
Want up-to-the-minute soaps news, spoilers, and gossip on your social feeds? Just hit 'Like' on our Facebook page and 'Follow' on our twitter