1000-Lb Sisters Spoilers: Have Amy And Michael Halterman Made up?
1000-Lb Sisters spoilers reveal that Amy Halterman has really started to confuse her fans with her recent posts. Just a few weeks ago, she took her sons and moved into her sister's house. The rumors are swirling that they were in a very violent relationship and she needed to get out. However, in her newest post on Instagram, she shared a very special tribute to her entire family. Including in her tribute was her estranged husband, Michael Halterman.
1000-Lb Sisters Spoilers – What Is Happening?
Amy and Michael haven't been able to see eye to eye on a lot of things since they welcomed their sons into the world. Apparently, he did not want their sons on the show, but she did. Her family has seen them together and most of them do not like Michael and feel like he has left all of the parenting on Amy. However, Amy has been posting a lot on social media without Michal. In fact, in her latest post, fans were very confused by how she included him in a picture after not speaking of him at all for weeks.
In a post on March 28 on TikTok, Amy shared a photo of her entire family. Michael was in this picture with her, as well as Gage and Glenn. She captioned it, "Pic of my little family at Tammy's wedding." In the background, her fans could hear the song, 'I love you baby' and this made them very unsure of exactly what is happening with Amy and Michael.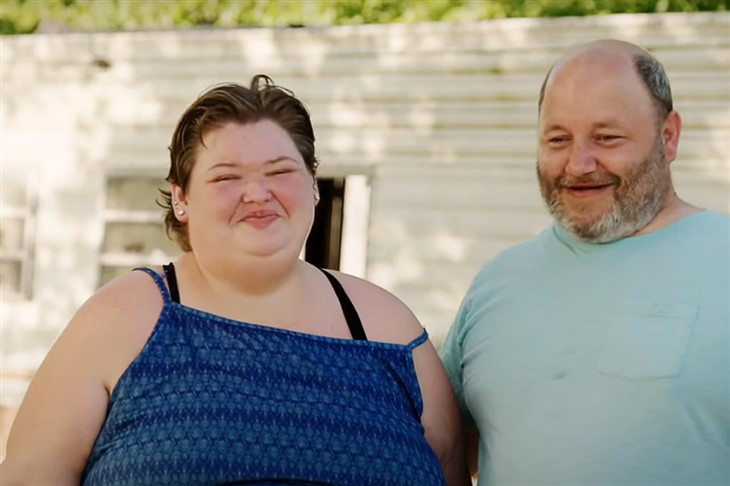 1000-Lb Sisters Spoilers – Fans React to Amy's Post
As soon as her fans saw this post, they were quick to jump in on her. One wrote, "If they were divorcing, the last thing she'd do is upload a video and title it 'My little family', so now I'm so confused."
Another added, "Amy- we're all hoping for the best for you and Michael." Another chimed in with, "Why is everyone saying you're divorced? I'm confused." There were a few fans that pointed out that people file for divorce all the time and then they work things out.
No matter what is going on, Amy's fans were happy to see her showing off her family. They hope that she gets to a place where she is happy again and where she feels safe with her kids. Michael and Amy could be working through some issues, but we will just have to keep an eye on her social media accounts to see what happens next with her and Michael. We hope only good things.
Be sure to catch up on everything happening with 1000-Lb Sisters right now. Come back here often for 1000-Lb Sisters spoilers, news, and updates.