Todd Chrisley Seeks Home Confinement, What About Julie?
Todd Chrisley is seeking home confinement. The Chrisley Knows Best star claims that he was assaulted in prison. He wants to get out of jail as soon as possible. There's little concern for his wife Julie Chrisley. Keep on reading to learn more.
Todd Chrisley – Seeking Home Confinement
According to a shocking new report via TMZ, Todd Chrisley wants home confinement. He argued that he was mistreated in prison. The USA Network star argued that he's being treated differently from the other prisoners. Todd feels that his fame is to blame.
His attorney, Jay Surgent, spoke to the outlet about this new allegation. Todd has become the talk of the FPC Pensacola in Florida. Someone violated his privacy by snapping a picture of him sleeping. He's dealt with many weird situations while in prison.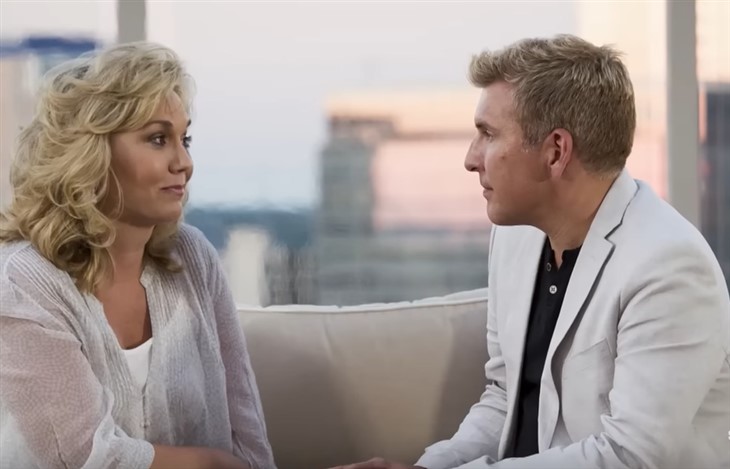 Todd Chrisley also argues that no one has been sending him mail. He thinks that someone is either stealing or destroying his mail.
The television personality doesn't understand what the motive would be. Todd's attorney also talked about the prison conditions. There is no running a/c to combat the ongoing heatwave.
The former realtor remembered his wife Julie Chrisley, who's dealing with similar conditions at FMC Lexington. The two aren't allowed to speak to each other during this time. Todd already submitted a request for home confinement.
However, he still has 12 years to serve for tax evasion and bank fraud. Todd got a 12-year sentence while Julie will only serve seven.
Julie And Todd Chrisley – Living In Poor Conditions
According to another report via People, Julie, and Todd Chrisley are living in terrible conditions. They argue that they're both "living in squalor in 100-degree temperatures."
An insider told the outlet that Todd's application for home confinement, among many others, was "rejected." As for Julie, she didn't want to go through the process.
"He submitted it, but then the person that was administrating it and in charge of processing it, decided that she didn't want to do that. She decided not to do,"
Surgent told People. "And then, the time period for the application expired, so he wasn't given due consideration with reference to being admitted to home confinement or taken advantage of some type of a probationary program."
What are your thoughts on Todd Chrisley seeking home confinement? Do you think he will get approved this time around? Does it surprise you he's not considering Julie? Check back on our site for more reality TV news.