Vanderpump Rules: Ariana Madix Sizzles In Revenge Dress Drama
Vanderpump Rules spoilers reveal that Ariana Madix dressed for revenge at the reunion episode. But the reality TV star didn't stop there. And Ariana used Instagram to prove her continued comeback from Tom Sandoval cheating on her.
In a trio of pics, the Vanderpump Rules star demonstrated the art of dressing for revenge. Find out what Ariana wore on social media that won cheers from her followers. And learn what the Vanderpump Rules star shared on Instagram below.
Vanderpump Rules Spoilers – Tom Sandoval Who?!
Ariana Madix sizzled on Instagram in the wake of Tom Sandoval breaking her heart with an affair. And after dumping Sandoval for cheating on her with Raquel Leviss, Madix posted pics showing her glow. For instance, one fire-red dress looked similar to Ariana's Vanderpump Rules reunion style, noted the Sun.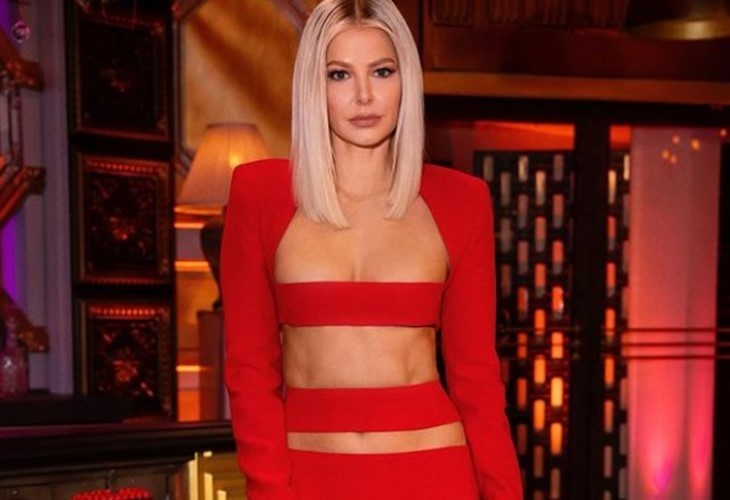 The newly blonde Vanderpump Rules star, 37, struck a pose outside of New York City's Bloomingdale's store. And she wowed her Instagram followers in a series of outfits. But Ariana's followers seemed especially impressed with her red frock. "As you may have heard, Bloomingdale's treated me to a shopping spree! obsessed with all 4 of these looks," wrote Madix in her Instagram caption.
And hinting at her comeback from Tom's affair, Ariana added, "I've never felt hotter!" But when the Vanderpump Rules star asked fans to name their favorite outfit, her followers went wild. For instance, one wrote, "Absolutely stunning." And another noted, "Obsessed with all of them. But number 2 is my fav!!"
Vanderpump Rules Spoilers – Ariana Madix Wins
However, one of Ariana's fans wanted to make it clear that Madix triumphed over Sandoval. And the fan wrote, "You and red is a winning combo." But as for Tom? Another follower commented, "Scumdoval is somewhere punching air right now."
The drama began when rumors soared that Sandoval cheated on Madix with Leviss. And Ariana then ended her relationship with Tom. However, producers learned about the love triangle. And they added to the publicity by filming the fallout. But insiders claim that Madix and Sandoval experienced problems prior to his affair with Raquel going public.
Ariana Madix Takes Girls Trip to England With Katie Maloney, Dayna Kathan for a Wedding: 'Lads on Tour' https://t.co/wHxuBUJWgB

— Gina Lawriw (@GinaLawriw) April 23, 2023
However, Ariana put aside her past to head to England. And the Vanderpump Rules star traveled with her friends Katie Maloney, Dayna Kathan and Raleigh Seldon for James Baker and Courtney Berman's wedding on Saturday. Madix shared it all on Instagram, noted Page Six.
"Lads on tour ," the Vanderpump Rules star wrote in the caption. And fans praised her for enjoying life after dumping Tom Sandoval. For example, one fan joked, "Omg she lost like 180lbs of dead weight." And others praised Ariana's "glow . Revenge is living your best life. Get it!!!"
Tell us what you think. How do you react to Vanderpump Rules star Ariana Madix dressing for revenge after dumping cheating Tom Sandoval? And after you share your views, check back on our site for more reality TV news.