Vanderpump Rules Spoilers: Ariana Madix Packs On PDA With New Man!
Vanderpump Rules spoilers tease that Ariana Madix goes from heartbroken to happy. And she achieves that emotional roller-coaster by dumping Tom Sandoval and dating a new man. But does any evidence really exist for the rumors?
Find out about the gossip that Ariana has begun dating again. And learn where the Vanderpump Rules star was when she sparked the rumors. Get all the details below.
Vanderpump Rules Spoilers – Ariana Madix Canoodles With New Man!
Tom Sandoval's months-long secret dalliance with Raquel Leviss turned his loyal girlfriend of 9 years, Ariana Madix, into a heartbroken victim. But the Vanderpump Rules star showed that she doesn't plan to throw a pity party.
And instead, Ariana canoodled with a new man, Daniel Wai, at the Coachella Valley Music and Arts Festival, noted Us magazine.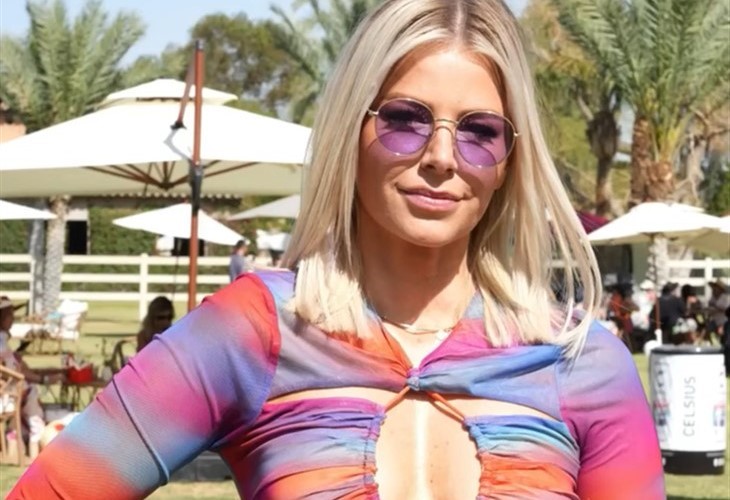 After dumping her cheating boyfriend Tom, Ariana headed to the Celsius Oasis Vibe launch party. And the Vanderpump Rules star, 37, enjoyed spending time with her costars Scheana Shay and Brock Davies. However, fans noticed a mystery man in the pics of Madix. And those photos started rumors about Ariana's new romance.
But the Vanderpump Rules star added to the speculation. And Ariana shared Instagram photos in which she held hands with her alleged new man. She also showed pics of him during her cosmetic glam prep. For instance, a scene of Madix getting cosmetic gemstones on her face shows her rumored new beau strolling along shirtless.
Ariana Madix's Coachella kiss was caught on camera! https://t.co/1Xhsk2c7Nj pic.twitter.com/t6pDl3nBe9

— Page Six (@PageSix) April 18, 2023
Vanderpump Rules Spoilers – Ariana Madix Moves On
Ariana's rumored new boyfriend, personal trainer Daniel Wai, posted pics of the two dancing at the music festival. And the couple also struck a pose for a selfie. As for how the Vanderpump Rules star's pals feel? They seem to approve. For example, Ariana's friend Logan Cochran wrote, "My happy lil babushka" next to a pic of Madix and Wai.
And Vanderpump Rules fans approved too. "Breaking News: Four minutes ago, Ariana soft-launched a new man at Coachella," shared one fan on social media. "I know we all had it up to here with Sandoval drama," added the fan. "There we have it, she is moving on."
An observer described Ariana as looking "happy and confident" during Coachella. "She checked out the [Celsius] activations with Scheana and Brock. Ariana was seated in a private lounge area laughing with her friends and seemed unbothered." But in contrast to Madix, Sandoval continues to try to halt the backlash.
The 40-year-old Vanderpump Rules star recently claimed that he split from Ariana on Valentine's Day. And he alleged that he broke up prior to Madix learning about his secret affair with Raquel Leviss. "I actually did break up with her on Valentine's Day," claimed Sandoval on a podcast. "I made it pretty clear in therapy that I wanted to, like, take the steps to break up. And then actually Ariana kind of just started really started fighting for it," he added. "And I felt so, so bad about it because she was being so unbelievably sweet and amazing."
Tell us what you think. How do you feel about Vanderpump Rules star Ariana Madix moving on with a new man? And after you share your views, check back on our site for more reality TV news.