Meghan Markle Refuses To Do This One Thing As A Royal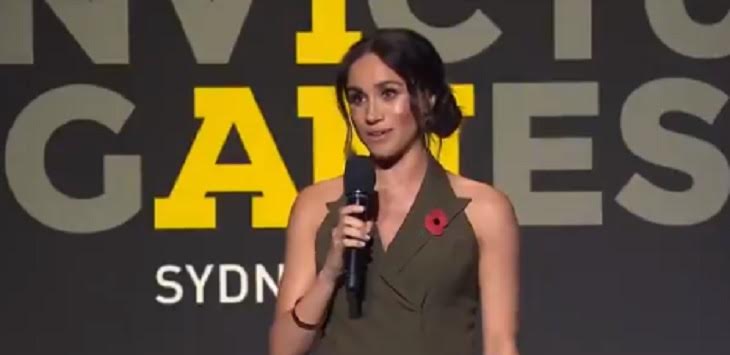 Meghan Markle might be ruffling a lot of feathers, both behind palace doors and in public, but apparently there is one thing that she refuses to do as a member of the royal family. Unlike many others in the monarchy, the Duchess of Sussex doesn't have any time or energy for her critics and that's why she refuses to read any negative press about her.
In recent weeks, there has been one report after another suggesting tension between Meghan and the rest of the royal family, particularly with Prince William and Kate Middleton. Some have even alleged that one of the reasons why Prince Harry and Meghan Markle are moving to Windsor is because they need their space from the Cambridges. Others simply say that the couple is looking for more space so to speak, as they will be adding to their family early next year. Either way, Meghan isn't a fan of royal gossip and that's why she's not reading any of it during her free time.
If that weren't enough, one source close to the Duchess of Sussex told Vanity Fair that Meghan thinks the British press hasn't done much of a job to roll out the red carpet for her, either. In fact, she thinks that they've been quite harsh on her simply because she's an outsider to the royal family.
The Duke and Duchess meet local contractors and hear how the Centre's rennovation was a joint effort between serving @RAFAkrotiri personnel, who worked on the project in their free time, and local tradesmen. pic.twitter.com/FPVBndiga2

— Kensington Palace (@KensingtonRoyal) December 5, 2018
"Meghan is a believer in karma and she doesn't want to sit there reading negative online stories and comments about herself," said a source. "She feels to a degree the British press is out to get her and while she's aware of the news and what's going on, she tries her best not to read all the stories about her."
Prince Harry and Meghan Markle tied the knot in a lavish ceremony at Windsor Castle back in May. The royal couple is also expecting their first child together in the Spring of next year. In the meantime, drop us a line with your thoughts in our comments section below. And as always, don't forget to check back with Celebrating the Soaps for all the latest news and updates on Prince Harry, Meghan Markle's pregnancy and the rest of the royal family right here.