Kate Middleton Squashes Feud Rumors, Gushes About Meghan Markle's Pregnancy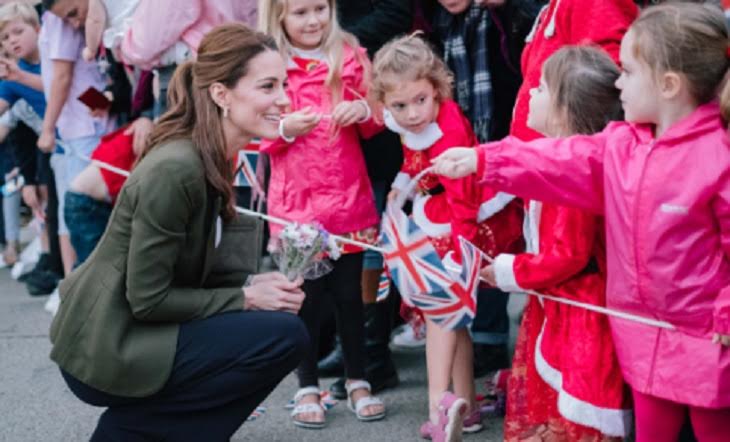 There's absolutely no truth to the on-going feud rumors among the Royal Family members. At least that's what Kensington Palace and Kate Middleton want to tell the public.
Speculation about Kate Middleton and Meghan Markle's unfriendly relationship stems from the purported opposing personalities of the two women. When Prince Harry and Meghan announced that they will be residing at Frogmore Cottage in Windsor, many wondered if the sisters-in-law are not getting along. Royal fans had hoped, just as it has previously been reported, that the newly married Prince Harry and Meghan will be next-door neighbors with Prince William and Kate at Kensington Palace.
Then, rumors surfaced about Kate's teary breakdown during Princess Charlotte's bridesmaid dress fitting for the Prince Harry-Meghan Markle wedding. It was said that Meghan's strict orders as a bride drove Kate, who has just given birth to Prince Louis, to tears. More recently, it was also rumored that the Duchess of Cambridge "snapped" at her new sister-in-law after Meghan allegedly raised her voice towards Kate's staff.
At the Oasis Centre @RAFAkrotiri, The Duke and Duchess of Cambridge visit the new cinema room and the café area which is run by CESSAC, The Church of England Soldiers', Sailors' and Airmen's Club. pic.twitter.com/2uhpKchmWe

— Kensington Palace (@KensingtonRoyal) December 5, 2018
In a rare move, Kensington Palace has broken its silence and addressed the nasty rumors. "This never happened," a spokesperson reportedly told The Sun, regarding Kate and Meghan's alleged row.
Now, Kate Middleton has also weighed in on the issue. During her official trip to Leicester University with Prince William last week, the Duchess of Cambridge was all smiles when a fan asked her if she was excited about Meghan Markle's new baby.
"Absolutely," Kate is heard saying in the fan-captured video. "It's such a special time to have little kiddies. And now a cousin for George, Charlotte, and Louis as well! It'll be really special."
Kate's recent statement, although informal, hopes to squash any more talks about her relationship with Meghan. While the two women are rarely seen together in public, they are always photographed smiling and laughing with each other during their outings. In July, they made their first joint outing without their husbands when they attended the Wimbledon finals game.