Princess Eugenie Sparks Baby Bump Reports With New Instagram Post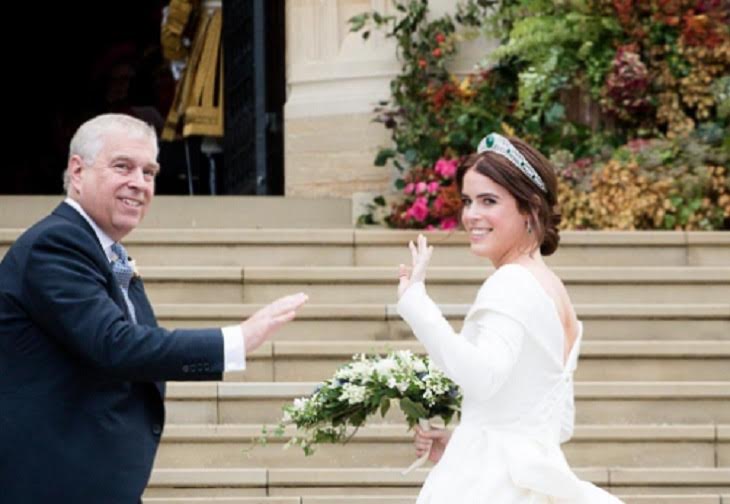 Is Princess Eugenie expecting her first royal bundle of joy? That's what a lot of fans can't help but wonder as the member of the British royal family shared an Instagram post that has managed to spark a flurry of tweets, comments and speculation. Princess Eugenie married Jack Brooksbank in a lavish ceremony and reception at Windsor Castle back in October.
Eugenie shared a photo from her engagement day back in 2018 and captioned the photo with, "What a year it's been since then and how exciting for 2019." The young royal didn't share any additional details but that didn't stop her fans from wondering if she might be pregnant.
Some Instagram followers shared comments such as, "Your wedding was the highlight of the royal year in 2018. I hope it's true and that you are expecting a baby," along with, "This photo is so lovely and you looked beautiful on your wedding day. Our family admires you. Now all there needs to be is a pregnancy announcement."
The Duchess of Cambridge congratulates Rachel Weisz, winner of the @BAFTA Award for Best Supporting Actress in The Favourite. #EEBAFTAs pic.twitter.com/0na1yro4a5

— Kensington Palace (@KensingtonRoyal) February 10, 2019
Another fan wrote, "Beautiful photo, beautiful wedding, beautiful bride! Many many more years of joy and happiness. If the two of you are expecting, that would be wonderful news. Your fans can't wait to see you pregnant."
So far Buckingham Palace has not made any comments about the baby bump speculation although it's without a doubt that a statement will be made the moment Princess Eugenie and Jack Brooksbank decide to share their special news with the world. Seeing how there is such a huge baby boom within the royal family right now, we wouldn't be surprised if Eugenie did end up sharing her pregnancy news in the coming weeks. Fingers crossed!
In the meantime, let us know what you think in our comments section below. And as always, come back to Celebrating the Soaps for all the latest news and updates on Princess Eugenie and all of your favorite British royals right here!
Visit our dedicated Celebrating The Soaps Meghan Markle page for all the latest news, interviews and photos!