This Is The Reason Why Prince Harry And Meghan Markle Keep Breaking Royal Protocol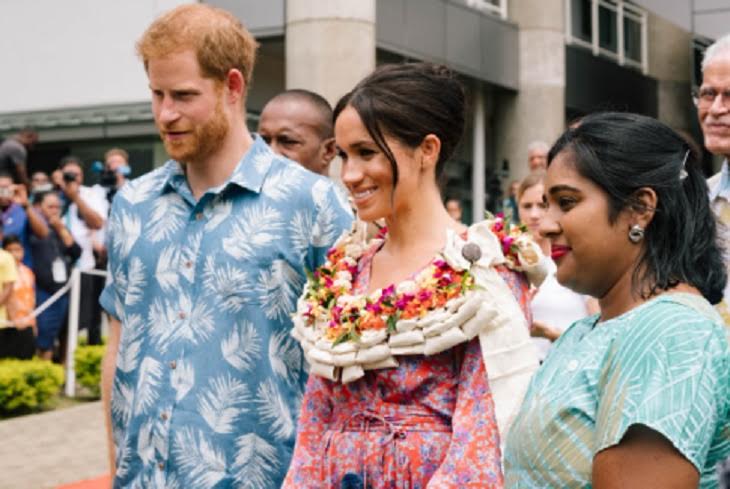 There is a new report that suggests there might be a special reason why Prince Harry and Meghan Markle keep on breaking royal protocol everywhere they go. And apparently, it has to do with the way that Princess Diana used to raise him.
According to reports, Princess Diana used to use a 'double hand holding trick' whenever she was out and about with her young son Harry. She used to show more affection towards Harry as a child, simply because she wanted to compensate for how Prince William used to be favored by the other royal relatives. After all, Prince William was the older son and of course, the future King of England, which meant that he was used to getting more attention than Harry. Princess Diana noticed this, and that's why she made sure that both of her boys received an equal amount of attention everywhere they went.
At the High Commissioner's Residence The Duchess of Sussex met leaders advocates and role models from across Fijian society — including people involved in women's empowerment. #RoyalVisitFiji pic.twitter.com/A5JP34Xqzq

— Kensington Palace (@KensingtonRoyal) October 24, 2018
And now it looks like Prince Harry does the same double hand holding trick with his wife, Meghan Markle. In fact, the royal couple love to hold hands and show affection with one another during all of their public appearances and royal engagements together. Just this past week Harry was spotted holding Meghan's hand behind his back with both of his hands, the same way his mother used to do it with him. A lot of eagle-eyed royal observers have also noticed that Harry's affection towards his wife differs greatly to how his older brother William behaves towards his wife Kate Middleton in public.
In the meantime, let us know what you think by leaving us a line with your thoughts in our comments section below. And as always, don't forget to check back with Celebrating the Soaps for all the latest news and updates on Prince Harry and Meghan Markle's pregnancy right here!