Andy Cohen Shades Tom Sandoval In American Horror Story Cameo
Andy Cohen usually appears on his talk show Watch What Happens Live to interview his celebrity guests. But in a special cameo, Cohen just appeared on American Horror Story.
And the talk show host used his appearance to throw shade at Vanderpump Rules star Tom Sandoval. Find out what Andy said below.
Andy Cohen – Gets American Horror Story Cameo!
Vanderpump Rules star Tom Sandoval became the reality TV show's biggest villain last season. And when the news broke that Sandoval cheated on his girlfriend Ariana Madix in a months-long secret dalliance, both his co-stars and viewers slammed Tom. However, the woman that Sandoval chose for that affair, Raquel Leviss, shared the backlash.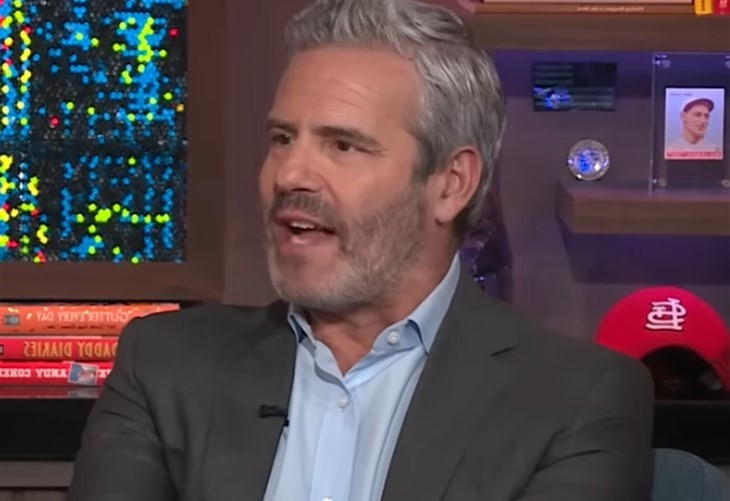 But in a surprise cameo, Bravo honcho Andy Cohen focused his American Horror Story: Delicate appearance on mocking Sandoval. And the 55-year-old talk show host appeared as himself in the debut of American Horror Story: Delicate, according to People. During his appearance, Andy interviewed Emma Roberts' character, actress Anna Alcott, on Watch What Happens Live.
And amid that fictional visit to his talk show, Andy praises Anna's new film, The Auteur. Cohen claims that the role seems so wonderful "that any actress would kill for it." And Anna declares, "You are absolutely right. I did kill somebody for the part. But I can't tell you who."
Andy Cohen – Throws Shade At Tom Sandoval
And the Watch What Happens Live talk show host confesses that asking who Anna killed "was gonna be my next question." But Anna offers a clue. And she shares, "I can give you a hint though: No one will miss him!"
But then the two mock Sandoval. "I know, Tom Sandoval," jokes Cohen in coming up with someone who no one would miss. And Anna fires right back. "Uh, no, but I f***ed Tom Sandoval to get on this show," she teases about her appearance on Watch What Happens Live.
However, though Anna did not follow Raquel Leviss' lead in an affair with Sandoval, she did get help from her publicist, Siobhan Corbyn. And in another reality TV star-to-primetime-TV twist, Kim Kardashian portrays Corbyn. The publicist focuses on getting her client in the headlines.
Andy Cohen Jokes About Tom Sandoval During 'American Horror Story: Delicate' Cameo https://t.co/QxrBST9U7v

— People (@people) September 21, 2023
American Horror – Story Parallels 'Rosemary's Baby'
The new season of American Horror Story explores how Anna seeks to make her acting comeback. But at the same time, she wants to conceive a baby by using IVF. However, the plot parallels "Rosemary's Baby," with a star-studded cast list including Cara Delevingne, Julie White, and Matt Czuchry. Michaela Jaé Rodriguez, Annabelle Dexter-Jones and Juliana Canfield also appear in the new season.
But Cohen did not discuss his appearance on American Horror Story on his real-life talk show as of yet. However, he apparently could't resist the chance to hype himself on social media. And the talk show host posted a clip of his cameo on his Instagram Story.
Tell us what you think. Do you feel that Vanderpump Rules star Tom Sandoval deserves the continued shade? And after you share your views, check back on our site for more television news.