Whoopi Goldberg Naps During Live Show
The View spoilers reveal that Whoopi Goldberg napped during the live show. Her co-host Sara Haines called her out. Fans noticed how bored Whoopi looked during the "Hot Topics" segment on the daytime talk show. Keep on reading to learn more.
The View Spoilers – Whoopi Goldberg Gets Bored
The View spoilers reveal that Whoopi Goldberg was bored once again during the "Hot Topics" segment about Joe Jonas and Sophie Turner.
She doesn't like to talk about relationships and dating. Whoopi is just as bored when the panel discusses celebrity couples.
The moderator introduced a debate about relationships and public displays of affection after separating from a partner.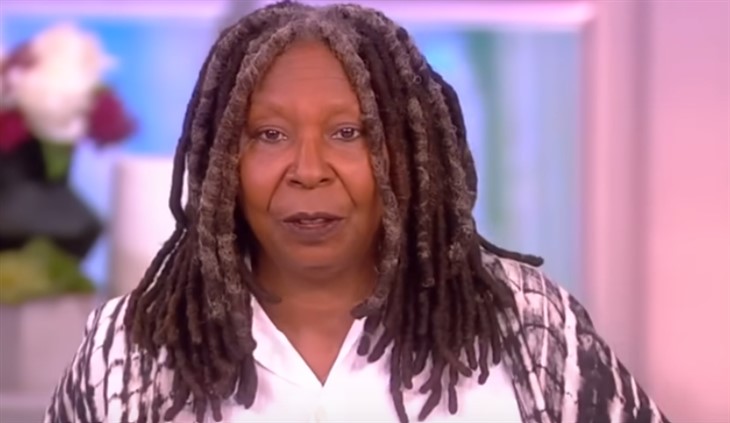 Whoopi read the teleprompter, which talked about Game of Thrones actress Sophie Turner kissing her new boyfriend Peregrine Pearson weeks after her public divorce from Joe Jonas.
According to a report, Joe Jonas also has an interest in dating around. However, he wants to focus on their two kids.
Whoopi Goldberg couldn't believe what she was reading. She eventually turned the conversation over to the panel. This was a good time for a nap since she found this topic boring.
She stayed silent as panelists Sara Haines, Joy Behar, and Sunny Hostin talked about moving on with a new partner in public.
Sara asked the table: "Since when does the ex get to decide when it's too soon?" Sunny noted that Joe feels "jealousy and resentment" about their divorce. He pointed out the singer's pettiness in the media. Joe dragged Sophie over the demise of their marriage.
The View Spoilers – Sara Haines Calls Out Whoopi Goldberg
According to The View spoilers, Sara Haines called out Whoopi Goldberg for napping on live television. She gave her a friendly shove during the segment.
Whoopi stared at Sara, wondering what she was doing. She pushed her back. Sara laughed and patted Whoopi on the back.
Whoopi shared her thoughts on the segment. Afterward, she rested her nap and continued her nap. Viewers have a feeling that Whoopi wants to retire from her position.
They can tell how disinterested she looks during these particular segments of the talk show. She's lively when the panel discusses politics.
What are your thoughts on Whoopi Goldberg napping on live television? Do you think she should retire from her position? Sound off below in the comment section.
As always, check back for more on The View spoilers, news, and updates.