The Young and the Restless Day Ahead Spoilers Thursday, October 11: Cover-up Crew Panics – Jack Busts Ashley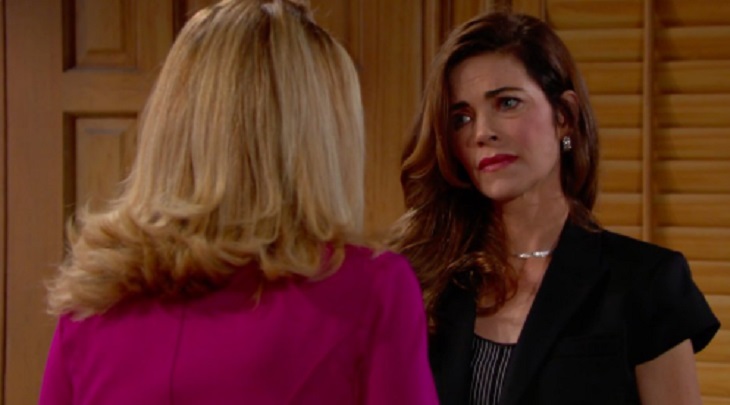 The Young and the Restless (Y&R) spoilers for Thursday, October 11, 2018 begin with Jack (Peter Bergman) asking Kyle (Michael Mealor) to keep a united front with Ashley (Eileen Davidson) for the company's sake; but Kyle feels Andrew (Coby Ryan McLaughlin) is a potential and legit whistle blower since Ashley is a schemer and more than capable of playing dirty. Ashley catches them talking and wants to know what it's all about.
Cover-up Crew Begins To Panic
Tessa (Cait Fairbanks) tries to keep Sharon's (Sharon Case) mind off the wedding and wants to help her. Sharon thanks her for keeping Mariah (Camryn Grimes) happy, but needs her to cover her when Phyllis (Gina Tognoni) arrives; saying they only have to put up with each other for a little while longer. Phyllis comes in and Sharon orders her to the patio, revealing she also got a threat.
Meanwhile, Victoria (Amelia Heinle) and Nikki (Melody Thomas Scott) sit at the GCAC, both talk about the threatening notes they received, both unconvinced that its a prank.
Cane Visits Lily
Lily (Christel Khalil) is grateful to be wrapped in Cane's (Daniel Goddard) arms, who says the kids miss her and send their love. Cane wants to know why she doesn't seem too happy to see him, she admits that since the kids aren't there, for once she doesn't have to put on a show.
Kyle says him and Jack were talking about Dina (Marla Adams); suggesting Kyle spend more time with Dina, rather than working so much at the office. She agrees and will see him at the office later. Jack advises him since he has no proof, he needs to tread lightly and should rather help her succeed for all their sakes as Jabot has taken too many hits.
Sharon swears this isn't about Nick (Joshua Morrow) and since they haven't heard anything from Nikki and Victoria, it's clear someone wants them to be terrified. Sharon is sure someone knows and wants to know what they are supposed to do now?
Cane understands what she is going through, but Lily insists he doesn't truly get it. He wants to desperately help her, but she says he can't so he tries to distract him, talking about the kids. Mattie (Lexie Stevenson) is fighting for her. She wants her to stop and fight for people who truly deserve it; Cane's only focus is Lily but she orders him to accept that this is her life now.
Nick goes to extreme measures today on #YR. pic.twitter.com/Ns2NY6udHm

— Young and Restless (@YandR_CBS) October 10, 2018
Ashley Warns Kyle
Ashley tells Kyle she doesn't trust him entirely but she will give him the benefit of the doubt. She warns Kyle that she is watching him when he is leaving her office.
Tessa checks on Sharon, but Nikki and Victoria arrive just as Sharon suggest Tessa gets Phyllis some manners. Once they are alone, Nikki and Victoria show them the same letters they got. All four women begin to through accusation around and why no one shared information with everyone; especially Victoria who says Phyllis has too many things to feel guilty about, not sure what it was truly about.
Cover-up Crew Suspects Rey
They ask Sharon if its possible Rey (Jordi Vilasuso) has something to do with this; none of them are impressed to learn that Phyllis went off half-caulked at the GCPD with the letter in front of Rey. Victoria wants to know if it isn't Rey, who else wants them on edge like this? Sharon wonders if it could be Victor (Eric Braeden)?
Once Ashley is out of her office, Kyle returns, placing a file one her desk. He was leaving her a note with the file and the sample products. He wants to impress her with how diligent he can be, but she is very suspicious of him.
Jack Busts Ashley
Jack meets with Kyle at the GCAC, admitting he is being a good soldier, but hacked into Ted's computer while he was on lunch. He found out the mysterious payments are going to Type A Consultants for the services of Andrew Lenford; which is a shell company. The checks were going for 6 months and suddenly stop; Kyle insists this is not work related at all and wants to bring this to Ashley, as she is hiding something. Jack says he will handle this her way.
Lily tells Cane about some of the inmates and their stories. Cane says he will have Mattie research some charities and he will write a big check. Lily feels these are real people with problems and the money isn't enough. She can make a real difference for these women, with the money and resources she has, and that is what she has to do.
Jack visits Ashley at Jabot, questioning her about the R&D company Type A Consultants. She says this isn't his problem and she has it covered. Ashley tells Kyle he is in breech of his contract for accessing files that are not for employees; he calls her out for doing the exact same thing to Billy (Jason Thompson). Kyle demands to know what her connection is to Andrew and why is she paying him off with company funds.
Ashley Blames Her Andrew Problem On Billy
Ashley says it was an arrangement to clean up one of Billy's messes. Kyle reveals Andrew met with him and has damaging information on her and that she needs to keep the arrangement. Jack admits that Billy mentioned Type A a few weeks ago as well. Ashley insists this is a non-issue but Jack wants to know if she is being blackmailed.
Cane is worried people will have ulterior motives and questions how well Lily knows her. Lily wants to help her know the system and fight to reunite her family. Cane says they have enough going on with their own family, which causes Lily to be offended, feeling he's saying it is her fault. He hands her a photo of the twins, but he doesn't want to leave her like this.
Is Victor Sending The Letters?
Nikki promises she hasn't nor will she tell Victor what happened, swearing she isn't the weak link. They continue to hurl insults and bicker at who might have let things slip to Rey, who said that even the best criminals let the smallest thing slip. Victoria finally tells them all to stop!
Ashley says she doesn't need to answer to either one of them as Kyle suggests they call in the board. Ashley tells Kyle he would look petty and Andrew is her employee and voted against her. She cannot give them a straight answer. She throws things in his face, including the little memory card that had the information about Dina revealing John wasn't Jack's father. Jack wants to help, but Ashley orders Jack to leave and if Kyle can't support her he can resign. Both Jack and Kyle leave as Ashley grabs her purse and phone, quickly leaving after them.
Cane doesn't know how to cope with her being in the cell and wishes he could trade places with her; feeling completely helpless. Lily tries to imagine the sounds of their house and the kids; loving all of them and that is what gets her through each day but she isn't the same person before the accident and this place. He will always love her no matter what.
Outside, Ashley meets with Andrew in the garage. She says this is the last time he is going to threaten her after he met with Kyle.
Victoria tells them its a real threat and they need to stop being careless and paranoid and be ready for the next move because the one thing they know for sure is, something is coming.
Esther Catches Up With Cane
At the GCAC, Esther (Kate Linder) hugs Cane who joins him for a drink, saying she is a much better listener than his glass of scotch. He admits he would be lying if he said Lily was doing great in prison, but its just a facade and its breaking his heart to see her like this. Esther says if there are any two people who will survive this, its them. He knows its hard on the kids, but this will make them stronger. He proudly shows her photos of the kids, and suggests bringing the kids by the house. Cane thanks her for listening to him.
Jack feels this is all about the whole Blood Abbott clause, as Kyle worries if she remains unchecked who knows how much harm she can cause Jabot. Jack isn't so sure they can stop her. Ashley continues to argue with Andrew in the car, promising to destroy his life. He says she may not have broken any laws but if the Abbott clan finds out what she has been up to, there would be no more family dinners for Ashley. She is sure she controls the narrative as she recorded all their meetings. She offers to pay him off for good and depart as friendly colleagues, asking him what is his choice?
Be sure to tune into CBS' The Young and the Restless (Y&R) on Monday, October 8, 2018 to catch up on all these exciting stories unfolding right now in Genoa City. Check Celebrating the Soaps often for updates, news, rumors and spoilers!