The Young and the Restless Preview Week of July 31: Sharon Poaches, Lily's Striptease, Phyllis & Adam's Alliance (Video)
The Young and the Restless spoilers for the week of July 31 reveal that a new preview clip has been released. It features Sharon Rosales (Sharon Case), who tries to poach Mariah Copeland (Camryn Grimes). Lily Winters (Christel Khalil) has a seductive striptease.
Plus, Phyllis Summers (Michelle Stafford) approaches Adam Newman (Mark Grossman) about taking down Tucker McCall (Trevor St. John).
Sharon Rosales Poaches
Y&R spoilers for the week of July 31 reveal that the preview clip showcases Sharon. Now, Sharon has been feeling empowered ever since she killed Cameron Kirsten (Linden Ashby) and burned his possessions.
Sharon now owns Cameron's company and is about to go through a merger. This business side of Sharon could lead to some unexpected developments.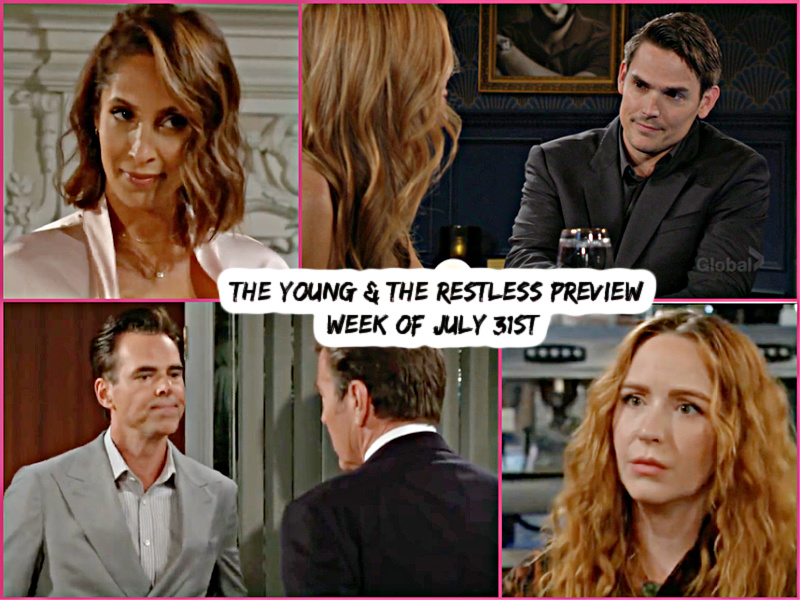 In the preview clip, Sharon meets with Mariah. Sharon tries to urge Mariah to leave Jabot. Mariah's jaw drops to the floor but she doesn't answer Sharon in the preview clip.
Y&R Spoilers: Lily Winters' Striptease
During the week of July 31, Lily will tempt an artist. Now, Lily has been sharing sizzling chemistry with Daniel Romalotti Jr (Michael Graziadei). It is teased that Lily will surprise Daniel. It turns out that Lily will strip off her clothes and seduce an artist, which is Daniel.
Billy Abbott Blabs
The Young and the Restless spoilers for the week of July 31 reveal that Billy Abbott (Jason Thompson) reports back to Jack Abbott (Peter Bergman) and Diane Jenkins (Susan Walters). Billy tells Jack and Diane about his meeting with Tucker and Ashley Abbott (Eileen Davidson). Billy reports that Tucker and Ashley want to use him as a Trojan Horse.
https://twitter.com/flutterpolitely/status/1684657060238032897
The Young and the Restless Spoilers: Week of July 31
During the week of July 31, fans can also expect Phyllis to meet with Adam. In the preview clip, Phyllis tells Adam that she needs his help. Adam is confused by what he could help Phyllis with. That is when Phyllis says in a hushed voice that she needs Adam to take down Tucker.
Adam looks at Phyllis and slightly smiles. So, it sounds like Tucker and Adam's feud will start back up again. Plus, whatever Adam and Phyllis scheme, it won't just affect Tucker. It will end up affecting several different characters. So, stay tuned to find out how this all ends.
Which storyline are you looking forward to seeing the most during the week of July 31? What are your predictions for Tucker, Ashley, Phyllis and Adam? What does the future hold for Sharon, Mariah, Daniel, Lily and the other characters? Share your thoughts in the comment section below. Remember to keep watching the soap on CBS or Paramount+ to find out what happens next.
Be sure to catch up on everything happening with Y&R right now. Come back often for The Young and the Restless spoilers, news, and updates.