B&B Recap And Spoilers Thursday, July 27: Liam Warns Steffy, Sheila Updates Deacon, Li Is Furious
The Bold And The Beautiful spoilers for Thursday, July 27 reveal that Liam Spencer (Scott Clifton) tells Steffy Forrester (Jacqueline MacInnes Wood) that he saw John "Finn" Finnegan (Tanner Novlan) and Sheila Carter (Kimberlin Brown) hugging in the hallway.
Finn tells Li Finnegan (Naomi Matsuda) that Sheila is free. Sheila tells Deacon Sharpe (Sean Kanan) that the judge set her free. Brooke Logan (Katherine Kelly Lang) and Hope Logan (Annika Noelle) meet with Ridge Forrester (Thorsten Kaye).
The Bold And The Beautiful Spoilers – Hope Logan Updates Ridge Forrester
Hope tells Ridge that Liam asked for a divorce and she gave him one. Ridge is confused as to why Hope didn't give the marriage time. Ridge doesn't care about Hope and Thomas Forrester (Matthew Atkinson) sleeping together. Ridge wants to know how Hope feels about Thomas.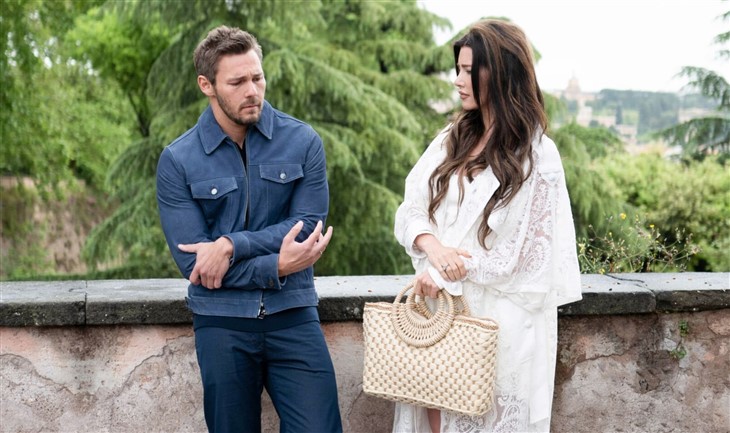 Hope cares about Thomas and they are just starting this relationship. Hope also believes that Liam is in love with Steffy and Thomas has always been clear about his feelings for her. Hope wants to work on her clothing line and raise her kids.
B&B Spoilers – Sheila Carter Shares Her News With Deacon Sharpe
The Bold And The Beautiful spoilers reveal that Deacon asks exactly what happened. Sheila explains that the judge set her free on a technicality. Sheila was scared that she was going to spend the rest of her life in prison. Sheila was afraid she would never touch the people she loves again. Deacon pulls Sheila into a kiss.
Deacon tells Sheila that Bill Spencer (Don Diamont) and Ridge vowed to keep quiet. Deacon hated Sheila being in the prison cell. Sheila says Deacon helped her because she was in a hopeless situation. Sheila is there with Deacon and they have a second chance. Deacon is glad that Sheila is free. Sheila hopes that Finn will be happy too.
The Bold And The Beautiful Spoilers – Li Finnegan Is In Disbelief
Li wants Finn and Steffy to testify now. Finn says there has to be new evidence. Li tells Finn to protect Steffy and the kids from Sheila. Li says Steffy must have had a terrible time holding herself back from going after Sheila. Finn tries to explain that the judge's hands were tied.
Deacon admires Sheila for her outlook but Deacon doesn't want Sheila to set herself up to be disappointed. Sheila refuses to give up until Finn forgives her. Finn promises to do whatever it takes to keep his family safe.
B&B Spoilers – Liam Spencer Vows To Protect
Liam plays the video for Steffy. Liam says Steffy needs to know if Finn is incapable of staying away from his birth mother. Liam took the video because he knew Steffy wouldn't believe her. Liam stays Steffy doesn't know if she can trust Finn to keep them safe from Sheila. Steffy says there is more to this, Finn would not just let his guard down. Steffy cannot believe that Finn would do anything to risk their family.

Liam refuses to put Steffy's safety at risk. Liam wants to protect his daughter too. Liam pushes Steffy to confront Finn. Liam assumes there is a mother-son connection. Liam says Steffy is obsessed with Finn and his son. Liam believes that Finn is showing Sheila that he is vulnerable to her. Liam says he loves Steffy too.
Be sure to catch up on everything happening with B&B right now. Come back here often for The Bold And The Beautiful spoilers, news, and updates.
For more about what's happening on your favorite soaps and more ways to connect with us, join the conversation on our YouTube Page or our Facebook Page, check out our Twitter feed, look for an update on our Instagram, follow us on Threads , Always stay up-to-date with us on Google News, or drop us an e-mail HERE! See you there!