The Young And The Restless Spoilers: Adam And Jack Are Solid – Victor Is A Sore Loser
The Young and the Restless spoilers document that Adam Newman (Mark Grossman) surmised Kyle Abbott (Michael Mealor) and Victor Newman (Eric Braeden) were conspiring against him. Adam is not paranoid, in this instance, as viewers know.
Victor wants Adam back in the family business fold. So, he pursued typical Moustache endeavors.
The young and the Restless spoilers show Kyle was tasked with digging dirt. What he uncovered appears to prove that Adam is distracted rather than duplicitous. Yet, Victor said he will work with it.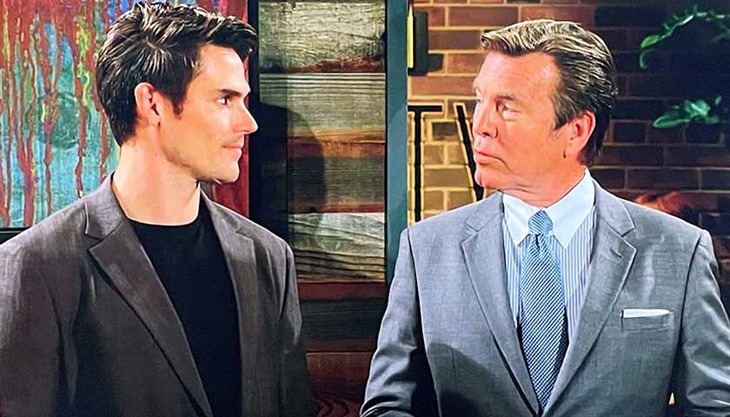 The Young And The Restless Spoilers – Victor Newman Has Too Much Time
Victor is no longer the Chief Executive Officer of Newman Enterprises. But he maintains a regular presence at the office, keeping an eye on his two children.
Victoria Newman (Amelia Heinle) is the apple of Victor's eye because she shares some of his business acumen and knows how to sweet-talk him. Adam is the bane of his existence and suffers no fools with his father.
Braeden's character has a notorious reputation for meddling in the lives of family, friends, and enemies. But the extra time he holds in semi-retirement is proving to be a detriment for Adam.
Y&R Spoilers – Jack Abbott Made A Wise Move
Jack Abbott (Peter Bergman) felt sorry for Adam for a long time. He took the character Grossman plays under his wing shortly after TPTB SORAS'd (soap opera rapid aging syndrome) Victor's youngest son.
Kyle wanted to head Marchetti and left an open spot at Jabot. Jack wanted to fill the co-Chief Executive Officer's spot with someone competent and that he could trust.
Victor and Jack have been getting along well in recent years. So, despite how it seemed, Jack was not sending a message when he hired Adam at Jabot.
The Young And The Restless Spoilers – Adam Newman Forced Back To Work?
The plan was or still is to engineer Adam's ouster at Jabot. But even if that happens, Adam has enough money. So, he will not need employment.
But some scenario could develop that forces Jack's hand. At that point in the plot, Adam may either be let go or will resign.
Victor's strategy may include an opening at Newman Enterprises that proves enticing. Maybe Adam is not forced back to work but is convinced an opportunity is too good to pass up.
Alternatively, Adam could be offered a spot with more power and influence than Victoria is considering on Y&R.
This site is a leading source for everything linked to The Young and the Restless. Check back regularly for Y&R spoilers and news!