The Young And The Restless Spoilers: Chelsea Throws Nick Under The Bus
The Young and the Restless spoilers indicate Nick Newman (Joshua Morrow) will risk his romance with Sally Spectra next week on the CBS soap opera. It looks like Chelsea Newman (Melissa Claire Egan) will get involved in the Newman brothers' new love triangle, after all she knows a thing about dating Adam and Nick. Y&R rumors show Chelsea will throw Nick under the bus, and possibly ruin his relationship with Sally Spectra (Courtney Hope).
The Young And The Restless Spoilers – Adam Newman Seizes The Moment
This week on Y&R, Cameron Kirsten will lurk in the shadows in Genoa City, waiting for a chance to pounce on Sharon Newman (Sharon Case). Pregnant Sally Spectra will notice that she is no longer a priority for Nick as he races around town frantically trying to save Sharon from her stalker.
Enter Adam Newman (Mark Grossman), who has been waiting for the perfect opportunity to prove he is the right baby-daddy for Sally.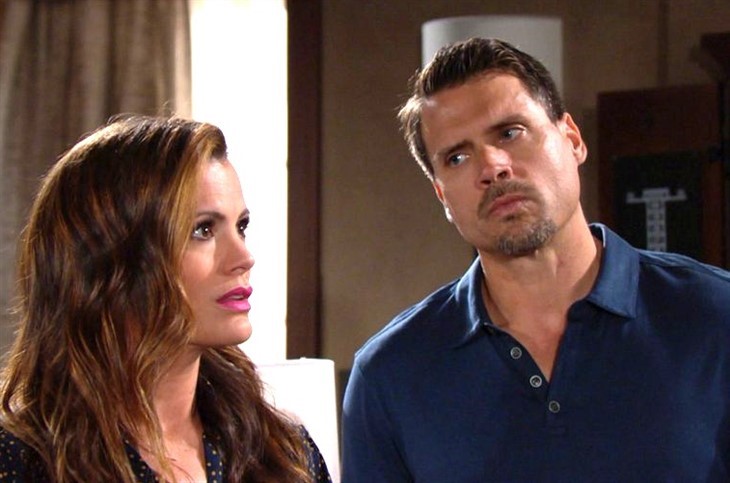 According to The Young and the Restless spoilers, Adam will profess his love for Sally again and beg her for another chance.
Nick's brother will point out to the mother to be that even if she has Nick's baby, she will still come second fiddle to his ex-wife Sharon. Sally Spectra will shoot down Adam's advances, but spoilers hint she is beginning to see that Sharon is going to be a problem.
Y&R Spoilers – Chelsea Breaks Up Nick And Sally Spectra?
After getting dismissed by Sally Spectra, Adam will pay Chelsea a visit and vent to her about the current status of his love triangle. Chelsea is going to have to agree with her ex on this one, she knows first-hand what it is like to be the "other woman" in Nick's life.
The Young and the Restless rumors hint Chelsea may even take it upon herself to sit Sally Spectra down and let her know a thing or two about being with Nick Newman. Could Chelsea's talk with Sally be the deciding factor in her potential split from Nick?
Does Chelsea have any business getting involved in Nick and Sally's romance? Will Sally see the truth about Nick and Sharon and end up back with Adam? Let us know what you think in the comments below and keep checking back here for more The Young and the Restless spoilers, news, and updates.