The Young And The Restless Spoilers: Connor Runs Away, Chelsea And Adam Panic Over Sally Baby Jealousy?
The Young and The Restless spoilers and updates tease that Connor Newman (Judah Mackey) could run away from home and cause his parents panic. Connor doesn't seem to be adjusting to a new baby taking his father's attention, and Chelsea Lawson (Melissa Claire Egan) and Adam Newman (Matthew Atkinson) could panic finding him missing!
The Young And The Restless Spoilers – Connor Newman Is Insecure And Jealous
Even though Connor spent his first few years with his mother when she was married to an older man, before he got to know his dad, he seems fixated on Adam.
The older man Chelsea had married in Louisiana died shortly after they came to Genoa City, and soon Chelsea brought Connor from the summer camp he'd been in. Adam himself had returned to town not too long before that, and had unsuccessfully tried to regain custody of Christian Newman (Alex Wilson) from Nick Newman (Joshua Morrow).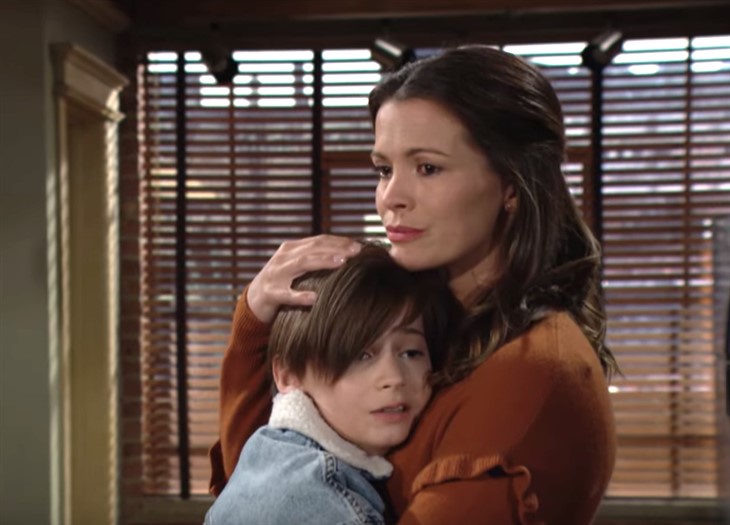 But when Chelsea got involved with Nick, and moved herself and Connor in with him, Connor had some major problems, and bullied Christian, who's younger.
That's how Chelsea and Connor wound up leaving Nick and moved in with Adam instead, and Connor tried making them a family-it seriously failed.
Y & R Spoilers – Johnny Abbott's Been Trying To Help Him Adjust
Even his older half-brother Johnny Abbott's (Paxton Mishkind) been trying to help Connor adjust to the idea of a little sister.
He has one and he adores Katie Abbott (Sienna Mercuri) although of course, as a proper older brother teases her and sometimes calls her a pest! And Connor likes Sally Spectra (Courtney Hope) but he's having this huge problem with Sally and his dad having a baby together; Chelsea's moved on, so it's not that.
Chelsea and Connor now live in the little apartment at the top of Crimson Lights, and he's frequently up there alone for short times when she comes down to buy breakfast. But sometimes she gets involved in conversation long enough that Connor could easily sneak out and leave her in a panic and call Adam to help search.
The Young And The Restless Spoilers – Sally Spectra Found Him Before
Sally found him by himself one time before sitting alone in Chancellor Park, when she and Adam were first starting to become involved.
The two of them hit it right off, but that was before he knew something was really going on between his father and Sally.
Sally could find Connor again, but that might be a good thing – she actually might be the perfect person to explain about the baby and help Connor accept her.
She knows it has to be confusing to get a new big brother that was already his cousin and a new little sister with his dad and she's dating his uncle! Maybe Connor will even get to feel his new sibling kick-as Sally's called Adam to come find his son!
Be sure to catch up on everything happening with Y & R right now. Come back here often for The Young and The Restless spoilers, news, and updates.