The Young and the Restless Spoilers: Devon Makes A Harsh Accusation Towards Hilary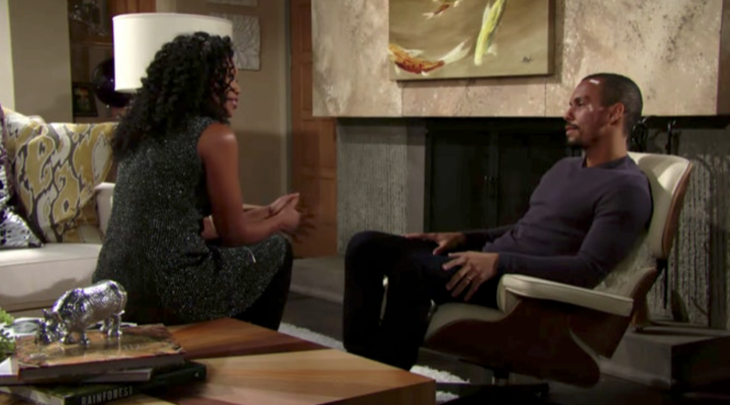 Well that escalated pretty fast! The Young and the Restless spoilers tease that Devon (Bryton James) is about to accuse Hilary of faking her pregnancy. For Hilary, (Mishael Morgan) this is bad news as it means that her plan won't go down as she hoped.
Of course, Hilary makes it no secret that she is excited to finally get pregnant, especially when she sees a plus sign on her pregnancy test. All of her dreams are coming true. For the longest time her one goal was to be a mother in her life. And now that it's happening, she's also dealing with plenty of drama to go with it, too.
Related: The Young And The Restless Spoilers: Victoria's Guilt Destroying Her, Nikki Worried About Getting Caught
When Hilary finds Devon in his office, she feels more than just a little let down while he is on the phone. She can't contain her excitement, but knows that she can't interrupt him while he's working so she slips him a little note about her surprise. She then heads to the club to celebrate this new chapter in her life, hoping that Devon will join her later on.
Unfortunately, Hilary doesn't get the reaction that she was hoping for from Devon. Instead, he accuses her of being a liar. After all, if there is one person who knows Hilary well, it's Devon. He can see right through her manipulation and lies. But this time it's different. Hilary might have a shady history, but she's not playing games this time around. Soon enough she'll end up getting her revenge on Devon and before her knows it, he'll be trapped by her again. There's no way Hilary will let him stop her from getting what she wants the most.
The Young and the Restless airs weekdays on the CBS network. Let us know what you think by leaving us a line with your thoughts in our comments section below. Also, don't forget to check back with Soap Opera Spy for all the latest news, updates and spoilers on The Young and the Restless and all of your favorite daytime television shows right here!
As always, more detailed spoilers and a full collection of pictures for the week in question will appear here on Celebrating The Soaps, when there will be more clues and hints over exactly what's going on.
The Young & The Restless airs weekdays on the CBS network.
---
Read more news, spoilers, and gossip on our The Young & The Restless homepage
Want up-to-the-minute soaps news, spoilers, and gossip on your social feeds? Just hit 'Like' on our Soap Opera Spy Facebook page and 'Follow' on our @soapoperaspy