The Young And The Restless Spoilers Friday, July 28: Diane's Perfect World, Billy's Moral Uncertainty
The Young and the Restless spoilers for Friday, July 28 reveal that Diane Jenkins' (Susan Walters) dreams will come true. It sounds like Diane and Jack Abbott's (Peter Bergman) courthouse wedding actually happens.
However, Diane's perfect world could come crashing down soon. Plus, Billy Abbott (Jason Thompson) faces moral uncertainty as he debates between Jack and Ashley Abbott (Eileen Davidson).
The Young And The Restless Spoilers – Diane Jenkins' Perfect World
Y&R spoilers for Friday, July 28 reveal that Diane will be all set to make her deeams come true. When Diane first came back to Genoa City, Jack and Kyle Abbott (Michael Mealor) weren't sure what she was up to. Now, Diane has earned the forgiveness and respect of both her son and lover.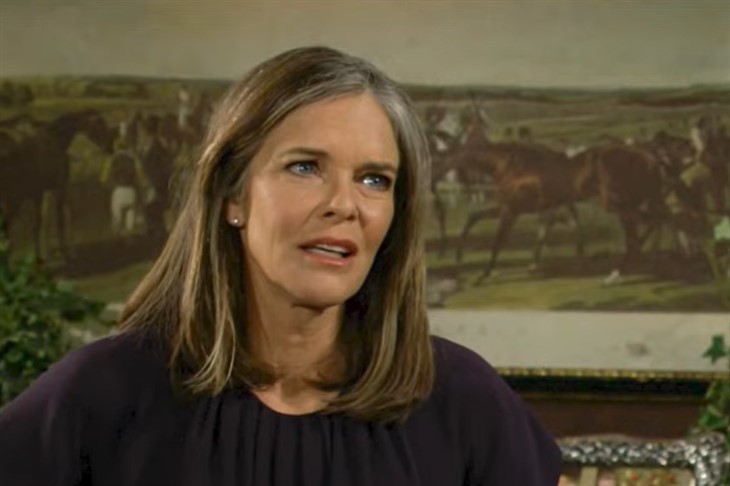 It is teased that Diane's dreams will come true. So, that sounds like Jack and Diane will return from the courthouse a married couple. However, this is all going so fast and there are a lot of people concerned about Jack's decision-making.
Y&R Spoilers – Tucker McCall's Threat
On Friday, July 28, Phyllis Summers (Michelle Stafford) will still be dealing with Tucker McCall (Trevor St. John). Tucker demanded that Phyllis earn Jack's forgiveness in order to drive Diane crazy.
Phyllis tried to talk to Jack. However, Phyllis can't possibly get Jack's forgives in one day… let alone in 5 minutes. Tucker told Phyllis that if she can't get Jack's forgiveness, then she's worthless to him.
So, that will put the pressure on Phyllis. Lauren Fenmore Baldwin (Tracey E. Bregman) assured Phyllis that Jack's always had a soft spot for her. Lauren might be right about that, so it should be interesting if and when Jack begins trusting Phyllis again.
The Young And The Restless Spoilers – Jack Abbott's Marriage Mistake
The Young and the Restless spoilers for Friday, July 28 reveal that Jack will probably still be thinking about his meeting with Phyllis.
However, Jack's focus right now is on marrying Diane and battling Ashley. Jack is moving full-speed ahead but could he be making a huge mistake? Is Jack moving forward too quickly with Diane? Will Diane get too much control, which could lead to a power struggle and an unexpected betrayal?
Y&R Spoilers – Friday, July 28
Fans might also see what happens with Chance Chancellor (Conner Floyd). Now, Summer Newman-Abbott (Allison Lanier) approached Chance for help. However, Summer and Chance clearly were sending chemistry cues to each other. Will Chance betray Sharon Rosales (Sharon Case) already? Will Kyle Abbot get jealous if Chance and Summer hit the sheets?

Share your thoughts in the comment section below. Remember to keep watching the soap on CBS or Paramount+ to find out what happens next.
Be sure to catch up on everything happening with Y&R right now. Come back often for The Young and the Restless spoilers, news, and updates.
For more about what's happening on your favorite soaps and more ways to connect with us, join the conversation on our YouTube Page or our Facebook Page, check out our Twitter feed, look for an update on our Instagram, follow us on Threads , Always stay up-to-date with us on Google News, or drop us an e-mail HERE! See you there!