The Young And The Restless Spoilers: Nate Hastings And Elena Dawson Are Busted – Devon Finds Out!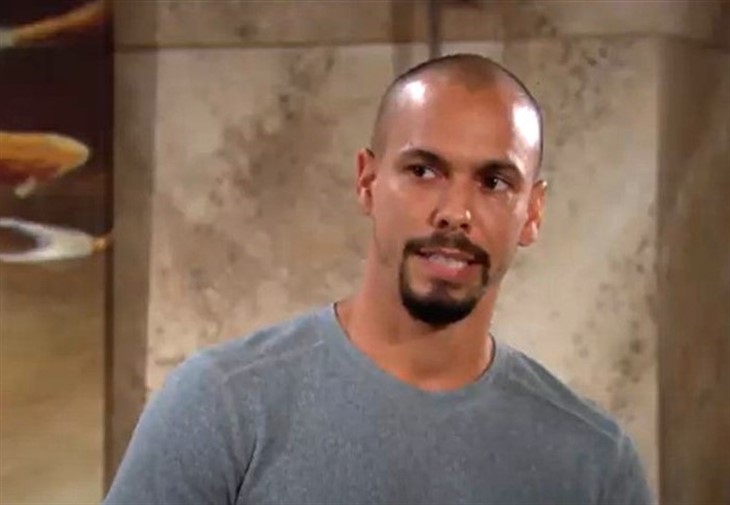 CBS The Young and The Restless spoilers tease that Dr. Nate Hastings (Sean Dominic) and Elena Dawson (Brytni Sarpy) are going to be busted – and in Genoa City, Wisconsin Devon Hamilton (Bryton James) is going to find out!
The Young And The Restless Spoilers – Nate Hastings And Elena  Dawson Made A Big Mistake And Both Have Felt Guilty Ever Since
Viewers will recall that Nate and Elena made a big mistake one night at the clinic. In the emotional moments after they saved Jared's (Michael Maclane) life from an overdose, they had sex. They both knew it was a mistake as soon as they were finished, and Elena has been on a guilt trip ever since.
Nate has too, and in a recent episode he broke up with Amanda Sinclair (Mishael Morgan) over it – although he didn't tell her what happened. Devon has been able to tell there's something up with Amanda and asked Nate if he knew, making Nate feel even more guilty. Nate's also been ghosting Amanda, and she confronted him while he was jogging in the park, which is where he broke up with her.
Then it looks like Amanda may have followed Nate to the clinic, where she witnessed the last part of an emotional conversation he had with Elena. She may have suspected something, but she then went to congratulate Devon on his business award and mentioned she was hiring a detective to look into her past. She tells Devon she needs more information about why she and her twin Hilary Hamilton were separated at birth but she may have another job for the detective as well. However, it isn't Amanda that busts Nate and Elena to Devon! There was someone else who visited the clinic right after the tryst happened!
Y&R Spoilers – Elena Dawson And Nate Hastings Are Busted At The Gala Honoring Devon
Elena and Nate are busted at the gala honoring Devon – he has been selected as the Businessman Of The Year. The gala is where he will receive his award from Genoa City. Elena is trying to put on a happy face but is struggling with her guilt. Devon can tell something's wrong and he thinks it's because of the connection he feels with Amanda. He's explained it's not a romantic one, but more like a family one, and Elena was still threatened by it. That's what led to the tryst with Nate!
Viewers will recall that right afterward, as Elena literally ran out of the clinic, Nick Newman (Joshua Morrow) had come looking for Nate, who still had his shirt off! At the gala, he mentions to Devon that he saw Nate and Elena at the clinic, although he doesn't mention a shirtless Nate or a fleeing Elena. However, it did send up red flags for Nick at the time. He mentions that it was the same night that a teenager had overdosed.
Devon then feels Elena is holding back because he knows about Jared and that Elena and Amanda both had felt close to the teenager. He doesn't understand why Elena didn't tell him about Jared if it is obviously bothering her that much. After he receives his award, he talks to her about it and she admits it was Jared. She gets very uncomfortable and Devon notices it and her pain. He worries Jared may be in a precarious position and Elena may have made mistakes in treatment.
She can't take it anymore and runs home. He eventually goes home after completing his business by receiving the award. He finds her a wreck! He still thinks it's over Jared but then hears something about losing control and saying she's sorry. Devon puts two and two together with Nate's odd line of questioning and figures it out! He feels doubly betrayed with Nate being his cousin and sleeping with his girlfriend!
Stay tuned to The Young and The Restless and keep checking The Young and The Restless spoilers frequently for all the latest news, updates, and developments!