The Young And The Restless Spoilers: Phyllis Blows Tucker's Plans To Go After Jabot
The Young And The Restless spoilers indicate that Tucker McCall (Trevor St. John) has offered Phyllis Summers (Michelle Stafford) an IT joy. However, Tucker refuses to give Phyllis any information until she commits to the job. Will Phyllis blow the whistle on Tucker and blow his plans to take over Jabot?
The Young And The Restless Spoilers – Tucker McCall It Up To No Good
The Young and The Restless spoilers reveal that Tucker has already tried to recruit Audra Charles (Zuleyka Silver) to help him take over Jabot. How Victor is trying to get Phyllis on board.
Will Phyllis agree to help Tucker before he tells her that he has set his sights on Jabot? Could Phyllis use this to get back into the good graces of the Abbott Family?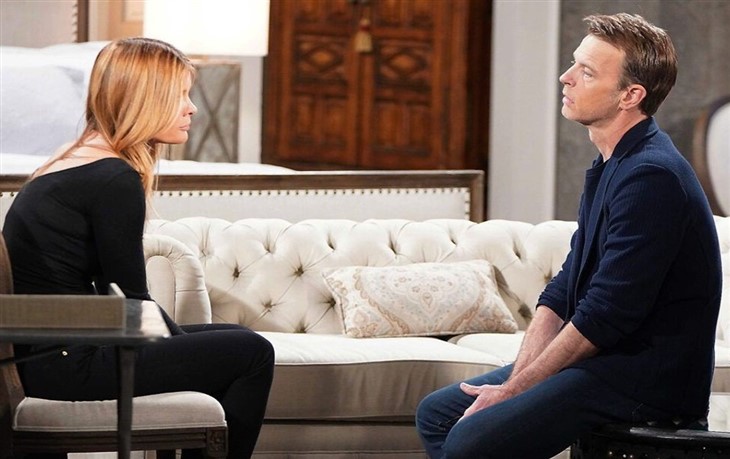 Tucker wants Phyllis to get information on Billy Abbott's (Jason Thompson) accounts. This could very easily prove that Tucker is trying to frame Billy for his takeover attempt of Jabot.
With Phyllis doing that hacking and insisting on a payment upfront, she has the evidence to take Tucker down and possibly repair her relationship with the Abbotts.
Y&R Spoilers – Phyllis Summer Demanded Money Upfront
Phyllis has demanded half of the money upfront for doing this job. This should be more than enough evidence to prove that Tucker is behind this takeover.
Billy and Phyllis are still on good terms so she could very easily take the information to him and let things go from there. Billy will certainly be grateful if Phyllis can stop yet another blowup with Jack.
Phyllis needs to pay back the insurance company since no one can figure out where Jeremy Stark (ex-James Hyde) sent the money.
Of course, Phyllis can prove what is needed to back up her claims as well. Phyllis may even record her conversation with Tucker for extra proof. Will this help Phyllis to make amends for everything she has done?
READ THIS: Find out what happens next on The Young and The Restless.
The Young And The Restless Spoilers – Diane Jenkins Is Trying To Be Civil Too
Diane Jenkins Abbott (Susan Walter) could be another person that Phyllis could approach with this information.
After all, Diane has been playing nice lately and they could take this evidence to Jack Abbott (Peter Bergman) as well. Jack knows that Tucker is up to something but Phyllis could provide him with exactly what.
Will Phyllis be responsible for saving Jabot from a hostile takeover? Will Jack finally forgive Phyllis if she helps to save his family company?
Can Phyllis truly redeem herself or will she blow the one chance she has to get things back on track?
Be sure to catch up on everything happening with Y&R right now. Come back here often for The Young And The Restless spoilers, news, and updates.
For more about what's happening on your favorite soaps and more ways to connect with us, join the conversation on our Facebook Page, check out our Twitter feed, look for an update on our Instagram, follow us on Threads , Always stay up-to-date with us on Google News, or drop us an e-mail HERE! See you there!