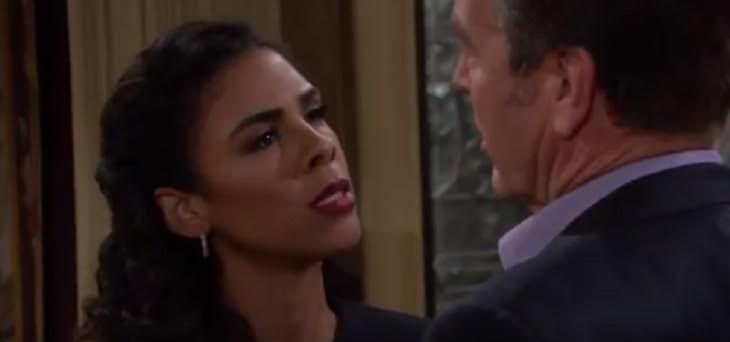 The Young and the Restless (Y&R) spoilers tease that Phyllis Abbott (Gina Tognoni) will be faced with an embarrassment soon. She will have to explain to Jack Abbott (Peter Bergman) why she trusted Kerry (Alice Johnson) and gave her inside information. It is all leading up to Ashley Abbott's (Eileen Davidson) return to Genoa City for a few days.
Phillis Makes A Huge Miscalculation
Kerry was good at getting Phyllis' trust and getting her to open up. at first, it appeared that Kerry was acting on Jack's behalf. He wanted Kerry to get Phyllis to trust her and use the information to remove her from the board. As it turns out, Kerry may not be as close to Jack as it appears right now.
Y&R spoilers state that Phyllis tells Kerry that she can beat any competitor. She isn't scared to go head-to-head with anyone, even Ashley Abbott. Phyllis learns that her new competitor is Ashley. Of course, Phyllis vows to take her down too. Kerry appears to be on her side, but that all changes after she leaves her office.
RT if this is how you feel right now. 😭 #YR pic.twitter.com/zmpYGKQ5Uu

— Young and Restless (@YandR_CBS) March 13, 2019
Kerry Makes A Mysterious Phone Call
Once Kerry leaves Phyllis' office, she calls a mysterious person. She calls the person boss and reports everything Phyllis is doing at Jabot. It doesn't sound like she is talking to Jack either. That means there is another person that is interested in Jabot's business. And, there is only one person that could be right now –Jabot's very own competitor, Ashley Abbott herself.
It makes perfect sense that Ashley would hire Kerry to gain the trust of the Abbott and report everything they are planning to her. Perhaps, the products Kerry has created is Ashley's as well. It would be a great storyline to see how they will react to find out that Ashley tricked them all, and Kerry is nothing but an Ashley robot.
Do you think Kerry was talking to Ashley? Don't forget to come back later for more The Young and the Restless (Y&R) spoilers, news, and casting updates!
Read more Celebrating the Soaps news, spoilers, and gossip on our The Young & The Restless homepage