The Young and the Restless (YR) Spoilers: Coverup Trio Imprisoned – Next J.T. Storyline Chapter Begins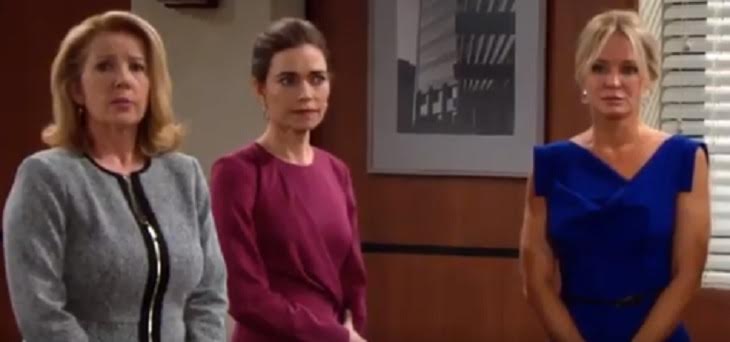 The 'Coverup Trio' was ruled collectively guilty on 'The Young and the Restless'. The presiding judge wasn't swayed by defense lawyer arguments or statements made on behalf of Nikki (Melody Thomas Scott), Vickie (Amelia Heinle), or Sharon (Sharon Case). Now, the next chapter in the 11-month J.T. (Thad Luckinbill) storyline begins.
Thirty years for Nikki. Ten years for Victoria. Three years for Sharon. Hard time for everyone except Phyllis (Gina Tognoni) who turned state's evidence in return for her own freedom, thus the 'Coverup Crew' tag no longer applies.
Former executive producer and head writer Mal Young promised four segments of this arc after it officially began April 13, 2018, the date J.T. was apparently killed. Viewers must believe that they are now in the final portion of the storyline, or are hoping as much. But what matters most Is how supervising producer Lisa de Cazzote, new executive producer Tony Morina, and new co-executive producer and head writer Josh Griffith collectively choose to end this mysterious tale.
Nick (Joshua Morrow) and Billy (Jason Thompson) followed through on a past discussion and are going to try and locate J.T., who has been presumed dead for nearing a year. How they plan to do so will soon be seen. But clearly the current powers at Y&R are telegraphing a breakthrough on that front.
Summer defends her relationship today on #YR. pic.twitter.com/ZpdDgyfmNi

— Young and Restless (@YandR_CBS) March 14, 2019
Then, of course, there is the force that is Victor Newman (Eric Braeden). This leading man character was oddly written out of most courtroom scenes after the judge barred him after his brief outburst.
Surely the 'Moustache' has been working with his sometimes crack security staff to locate the man who once left him for dead and later tried to kill him at GC Memorial Hospital. Braeden's character is also likely to coordinate efforts with Nick and Billy as well.
So, unless this storyline's conclusion is realized far sooner than expected, the 'Coverup Trio' won't avoid jail. That means the next and potentially final part of Y&R's massive arc will involve the search for Mr. Hellstrom.
As it's already known that Luckinbill has returned to the cast, it's now increasingly possible (though not yet fully certain) that J.T. is alive. That realized stunner, or something close to it, will radically alter the lives of all connected to the shattering verdict that was rendered.
This site is a leading source for everything linked to 'The Young and the Restless'.
Read more Celebrating the Soaps news, spoilers, and gossip on our The Young & The Restless homepage