The Young And The Restless Spoilers: Summer Goes After Chance, Sharon Distracted By Business Woes
The Young and the Restless (Y&R) spoilers tease that Summer Newman-Abbott (Allison Lanier) is over her disloyal husband Kyle Abbott (Michael Mealor) and his fling with Audra Charles (Zuleyka Silver).
After the affair started, Audra hired Kyle at Newman Media, so it's fair to say she has her talons into him.
Summer just told her grandma Nikki Newman (Melody Thomas Scott) that she's ready to move on, and informed Kyle she hired Heather Stevens (Vail Bloom) as her divorce attorney.
The only thing left is for Summer to have her own rebound affair and wash Kyle out of her hair for good. And we know just the man for the job!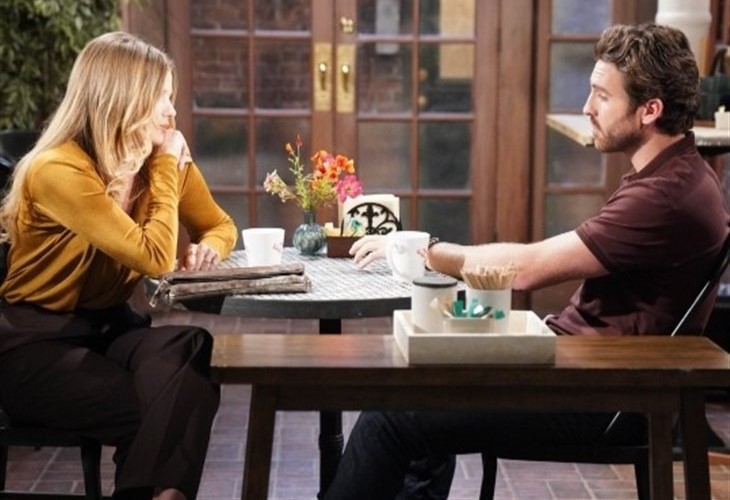 The Young And The Restless Spoilers – Kyle Abbott And Summer Newman Over
Summer and Kyle have been friends forever, but that doesn't mean they can make a marriage work; No matter how many times they have a flashy ceremony.
We knew Summer was serious about moving on once she got on the roller coaster and screamed her head off!
At the time she asked Chance Chancellor (Conner Floyd) to accompany her, but he was tied up. Now is the perfect time to revisit the lawman and suggest that they spend some time together.
Y&R Spoilers – Is Chance Chancellor With Sharon Rosales?
The show has played it coy with Chance, first suggesting he was into Sharon Rosales (Sharon Case) and then semi-flirting with Summer. Let's face it, with the writer's strike going on, anything can happen.
Even though Chance and Sharon got cozy in the back of her coffee shop, she has moved on to her business life with Kirsten Incorporated which is taking up all of her time now.
It's doubtful that Sharon would even notice if Summer and Chance hooked up, or that she would even care.
Summer and Chance became familiar with one another during the investigation into her missing mom, Phyllis Summers (Michelle Stafford).
Despite knowing that Summer was keeping the truth from him, it was obvious that Chance was intrigued with the feisty blonde.
The Young And The Restless Spoilers – Will Chance Chancellor And Summer Rosales Celebrate Autumn?
Explosive show spoilers tease that in the coming days and weeks Summer tries to find happiness after a very dramatic summer in Genoa City, Wisconsin.
Will it be with Chance? These two brought the heat when they interacted, and now we want to know what you think Y&R fans—do you want to see a Chummer connection this fall?
Be sure to catch up on everything happening with Y&R right now. Come back here often for The Young and the Restless spoilers, news, and updates.