The Bold And The Beautiful Spoilers: Liam And Finn Clash After Steffy Leaves LA?
The Bold and the Beautiful spoilers document that Liam Spencer (Scott Clifton) was never John Finn Finnegan's (Tanner Novlan) favorite character. But after Finn's recent marital troubles, Liam became a renewed target.
The repeated scenes between Finn and Liam clashing could have led to a physical fight if Steffy Forrester Finnegan (Jacqueline MacInnes Wood) stayed in town. But she is teased to leave Los Angeles, California, this coming week.
So, when will Finn and Liam cool off or clash when Steffy takes Kelly Spencer (Sophia Paras Mckinlay) and Hayes Forrester Finnegan (Alexander and Chase Banks) to Europe so she can clear her head?
The Bold And The Beautiful Spoilers – Steffy Forrester Finnegan Had To Leave
Steffy was happy when Sheila Carter (Kimberlin Brown) was put in prison due to the murder admission she made at Bill Spencer's (Don Diamont) house while under surveillance. But the relief she and everyone else was quickly replaced by anger and fear.
Even Sheila was stunned when the murder charge was dropped. What happened in the moments following the judge's ruling was caught on a smartphone camera by one of the many self-appointed videographers living in this version of LA.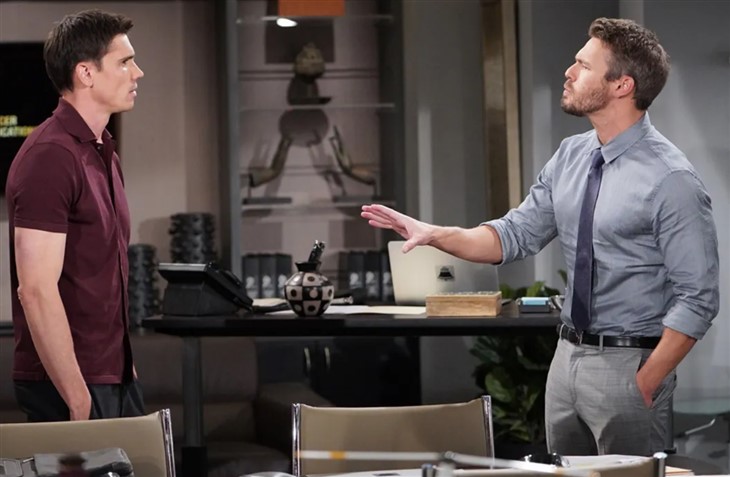 Liam could not wait to show Steffy that he recorded Finn hugging Sheila in the courthouse hallway.
As Steffy later realized, Finn not only felt compelled to return his birth mother's hug, he also was drawn to the hallway to be with her rather than remain by his wife in the judge's chambers.
While Steffy recently agreed to move back to the cliff house, after living with her grandfather for a handful of weeks, she will soon be off to Europe. Viewers knew Steffy's absence was inevitable due to Wood's pregnancy and need for maternity leave.
B&B Spoilers – Liam Spencer Distracted By Hope Logan
Hope Spencer (Annika Noelle) did not readjust her moniker yet. But that is something that also seems inevitable because Liam will not consider reconciliation.
Thomas Forrester (Matthew Atkinson) is not going to allow the late summer grass to grow under his feet now that Liam has shut down Hope.
That means Noelle's character will likely be inclined to couple with Thomas and file the divorce paperwork making the break official.
Hope Logan could be her name again unless Steffy's departure causes Liam to reconsider, which would not be surprising based on his years-long pattern of romantic decision changes.
The Bold And The Beautiful Spoilers – John Finn Finnegan Without Wife Or Children
Finn was lost without Steffy and the kids at the cliff house. But he maintained hope that they would soon return and turned that belief into reality.
So, to see Steffy, Kelly, and Hayes leave LA for Europe will be very hard to swallow. Of course, Sheila intends to use Steffy's absence to rebuild the bond she was forming with her son before the shooting in the alley behind Il Giardino.
It seems natural to project that Finn will also renew his attacks against Liam, who he holds partially responsible for this mess on B&B.
This site is a leading source for everything linked to The Bold and the Beautiful. Check back regularly for B&B spoilers and news!