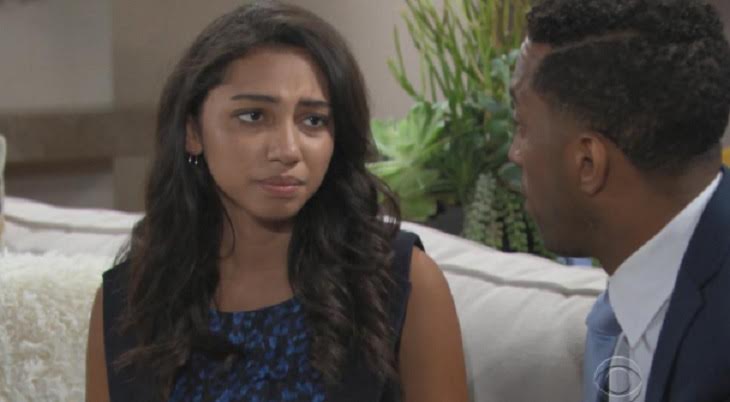 Devon (Bryton James) is sad that Shauna Nelson (Camryn Hamm) is leaving on 'The Young and the Restless'. That makes sense because she represents a living link to Hilary (Mishael Morgan).
Hamm wasn't part of Y&R's cast for long, but she made a positive impression during her run. Shauna's farewell scenes were delivered brilliantly and potentially leave the door open to follow-up appearances in 2019.
Tearjerkers are part of soap opera lore. A sharp script and excellent work by both Hamm and James saw Shauna written out of the show this week. Considering Ana's (Loren Lott) arrival last month, this change in Devon's life makes total daytime sense.
Shauna was created to expand Hilary's story. Hamm's character was quickly taken under the then-Miss Curtis' wing, as she began to mentor the teenager. That development allowed Morgan's character to be softened considerably.
Devon suffers a setback today on #YR. pic.twitter.com/0UUlHHgXQO

— Young and Restless (@YandR_CBS) December 5, 2018
Whether Y&R knew, or anticipated that Morgan would leave when Hamm was cast is unknown. However, Hilary's passing earlier this year naturally telegraphed Shauna's possible departure which has now come to pass.
However, the developments are a shame for Charlie (Noah Alexander Gerry). Cane's (Daniel Goddard) son had far more story to work with Shauna.
Hopefully, Gerry's likable character continues to be written into other storylines, as the show needs to maintain a portion of its focus on that generation. Yes, the traditional summer stories, when younger viewers are believed to be watching in somewhat greater numbers, are expected. But regularly weaving the younger residents of Genoa City into their own plots year-round is wise.
As for Devon, Shauna's desire to be with her parents was also coupled with a recognition that James' character is tortured. He's a poor soul who needs to rely on his family, as this link to Hilary expressed to him just prior to moving to Colorado to be with her parents and brother.
The Ana recast clearly coincided with Shauna's departure. Lott's character shares personal history with her brother that includes their mother's own drug problems. Time will tell if Y&R is writing Devon to a repeat of that family history.
Celebrating the Soaps is a leading source for everything linked to 'The Young and the Restless'.