'The Young and the Restless' (YR) Spoilers: Is J.T. Alive? Thad Luckinbill's Return Hits Audience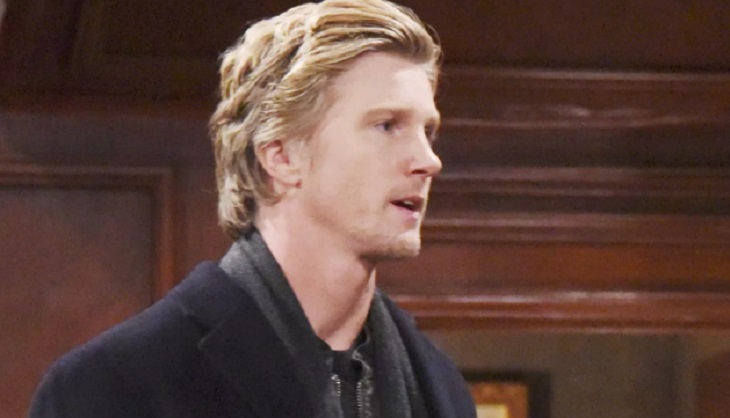 Thad Luckinbill (J.T.) is back on 'The Young and the Restless'! Defying all reason, it appears that Mr. Hellstrom survived the coverup crew's best attempts to do away with him.
Is Nikki (Melody Thomas Scott) actually only a two-time killer? As fans recall, she picked up a fireplace poker in Vickie's (Amelia Heinle) bedroom and hit J.T. on the back of his head. He fell to the floor and appeared pulse-less.
Phyllis (Gina Tognoni) feared that Christine (Lauralee Bell) and Paul (Doug Davidson) would play off their longstanding grudge against her, as she'd purposely run them down with a car (during the era that Michelle Stafford played this character), drove away, and has never faced justice.
So, Tognoni's version of Phyllis took control of the situation and convinced Nikki and Vickie to dispose of J.T.'s body. Sharon (Sharon Case) was opposed to the scheme, but eventually agreed not to report what happened to the authorities.
Y&R fans saw that J.T. was rolled into a carpet and later put into an open plot of land at Chancellor Park, a location that Nikki was aware of due to her involvement with New Hope.
Viewers also saw Vickie begin throwing dirt on J.T.'s body, but weren't shown the final fill, or a wide shot of the surroundings in the minutes that followed the coverup crew's departure.
The hoodie-wearing man who was shown on Newman's surveillance footage a few weeks ago seemed to be the same person who turned to look at Sharon and Nikki from outside the cottage. But, is he J.T. Hellstrom?
It could be possible that J.T. dug himself out of the mock grave at Chancellor Park, or that someone rescued him immediately after the four ladies left.
LOVE Y&R? SUBSCRIBE TO OUR THE YOUNG & THE RESTLESS NEWSLETTER, HERE!
Maybe J.T. had an unknown twin brother who is seeking to avenge his sibling's death. That look-a-like might not know that J.T. is dead, has been targeting Newman and now, the coverup crew, for other reasons.
Past doppelganger storylines create the potential for that scenario in this instance. Possibly it wasn't J.T. who was in town from December through the spring, which would explain why he was acting out of character. Then again, the doppelganger could be in Genoa City now.
Fans of 'The Young and the Restless' rightfully express their opinions on a regular basis. So, how can J.T. be alive, or is another scenario playing out! Please vote in our poll below!
As always, more detailed spoilers and a full collection of pictures for the week in question will appear here on Celebrating The Soaps, when there will be more clues and hints over exactly what's going on.
The Young & The Restless airs weekdays on the CBS network.
---
Read more news, spoilers, and gossip on our The Young & The Restless homepage
Want up-to-the-minute soaps news, spoilers, and gossip on your social feeds? Just hit 'Like' on our  Facebook page.