'The Young and the Restless' (YR) Spoilers: Is J.T. Dead or Alive in Genoa City?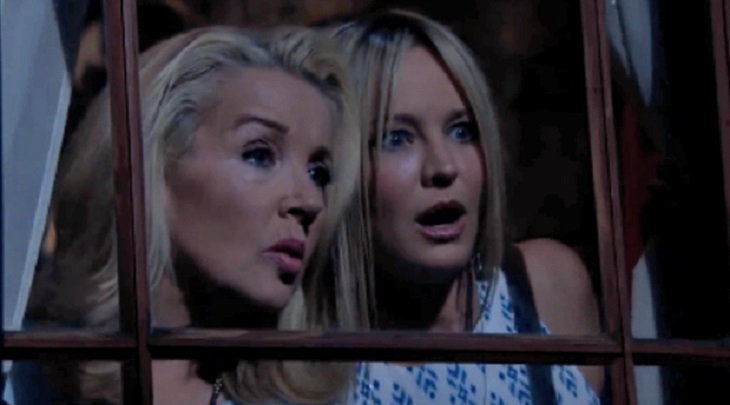 There are many questions that can be asked about the J.T. (Thad Luckinbill) storyline on 'The Young and the Restless'. One of, if not the strongest one that can be asked is if he's dead or alive in Genoa City?
Alternative options besides the two referenced above can also be explored. But this particular feature won't deep dive into doppelgangers, evil twins, look-a-likes, or Trent Luckinbill's (Thad's real life twin) possible return to Y&R.
The case for J.T. being dead is strong. He was hit, very hard, on the back of his head by a metal fire poker. Nikki's (Melody Thomas Scott) third known killing left her former and then planned-to-be son-in-law lifeless.
The man had no detectable pulse, was rolled up in a rug, put in a vehicle and transported to Chancellor Park. Coverup ring leader Phyllis, Nikki, Vickie (Amelia Heinle), and Sharon (Sharon) deposited his body in a conveniently open area of ground in the center of what was meant to be Katherine's (Jeanne Cooper) place of honor.
LOVE Y&R? SUBSCRIBE TO OUR THE YOUNG & THE RESTLESS NEWSLETTER, HERE!
Vickie felt it her place to muster the shoveling, so she began throwing dirt on top of him. There was somewhere between four to six feet of compacted earth placed on top of J.T.'s body, after which the four-person fixers left.
Now, for the holes within the dead man story.
A faint pulse wouldn't have been detected. There was enough air available for J.T. to breath while he was in the rug and when he was deposited into the park.
After being buried alive, J.T. was left alone in his unauthorized plot. An unknown person could have been watching all of the above play out and quickly dug him out after the coverup crew left.
Being unconscious, J.T. could have theoretically survived due to enough of an air pocket existing for life to be sustained. How he was immediately cared for, where he's been living since then, and why he's come back in the manner that he has are open questions that would need to be answered.
Fans of 'The Young and the Restless' rightfully express their opinions on a regular basis. So, is J.T. dead or alive in Genoa City?
As always, more detailed spoilers and a full collection of pictures for the week in question will appear here on Celebrating The Soaps, when there will be more clues and hints over exactly what's going on.
The Young & The Restless airs weekdays on the CBS network.
---
Read more news, spoilers, and gossip on our The Young & The Restless homepage
Want up-to-the-minute soaps news, spoilers, and gossip on your social feeds? Just hit 'Like' on our  Facebook page.