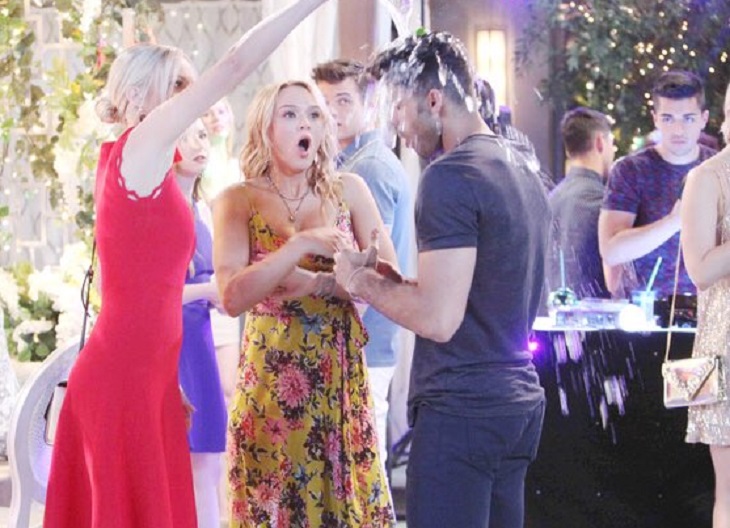 A gap in the 'Life in Pieces' filming schedule has allowed Hunter King to rejoin the cast of 'The Young and the Restless'. And so, it's Summer time again in Genoa City.
King's character was written away from town a few years ago. Summer was said to be traveling. Well, now she's back and a brief jail stay will highlight her early adventures.
Kyle (as formerly played by Lachlan Buchanan) used to be an item with Summer. He and King's character split when Buchanan left the cast in 2015. However, there's a new junior Abbott in town as all Y&R fans know.
Michael Mealor's version of Kyle has injected trouble directly into the veins of various characters. While current Kyle has evidenced compassion for his embattled father, he's clearly looking out for himself.
LOVE Y&R? SUBSCRIBE TO OUR THE YOUNG & THE RESTLESS NEWSLETTER, HERE!
Agreeing to work with Victor (Eric Braeden) and not fully severing ties with the 'Moustache' surely makes this character one to watch this summer. Okay, that sentence-ending word will surely be overused. But when Y&R opts to bring King's character back in early June, as summer is approach, then using summer is apt.
And speaking of Summer, she and Kyle will redress their past relationship. But that doesn't necessarily mean 'Syle' will get back together. Wouldn't that seem too easy for daytime drama? Yes, and therefore the odds of that happening are diminished.
Instead, expect the former Mrs. Travers and current Miss Newman to explore plenty of romantic possibilities and to push her mom's, Phyllis (Gina Tognoni), patience. Of course Summer's dad, Nick (Joshua Morrow), will also be drawn into the drama.
There are elements within the audience, as in true for all soaps, or other nighttime and streaming serialized shows, that pick one character to sling arrows at. Summer has occasionally been that persona.
Here's hoping that Y&R's writing staff gives King meaty scripts that allow this two-time Daytime Emmy Award winner the ability to pursue new soapy avenues in GC this, well, summer. While King's return may prove to be of the limited-run nature, it feels like it will also be engaging entertainment.
Soap Opera Spy is a leading source for everything linked to 'The Young and the Restless'.
Soap Opera Spy is a leading source for everything linked to 'The Young and the Restless'.
Read more news, spoilers, and gossip on our Young & Restless homepage
Want up-to-the-minute soaps news, spoilers, and gossip on your social feeds? Just hit 'Like' on our Soap Opera Spy Facebook page and 'Follow' on our @soapoperaspy