The Young and the Restless (YR) Spoilers: Jill's Story Developing – Tristan Rogers Missed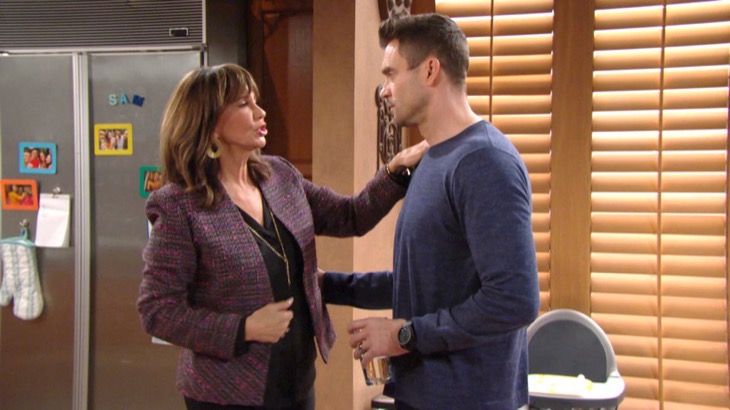 Colin (Tristan Rogers) and Jill (Jess Walton) are no longer married on 'The Young and the Restless'. Walton's character revealed the news without bitterness to Cane (Daniel Goddard) this week, which also indicates that Jill's story is developing.
Writing out Colin could mean that Rogers won't be returning to Y&R anytime soon. That's lamentable, as this actor's strong work on the show was seen from 2010 through 2017. The sketchy, yet vulnerable head of the Atkinson clan was ever-conflicted about his love of the good life and the well-being of the family.
Of course, Rogers' daytime fame was earned on 'General Hospital', where he first played Robert Scorpio in 1981. Rogers last appeared in that role in 2018. Along with his Y&R alter ego, the actor has also appeared as Lex Martin (2010-2017) in the internet-based series 'The Bay', which won the Daytime Emmy Award for Outstanding Digital Daytime Drama Series last year.
#yr Jill Returns, Attempts To Shut Down Cane and Victoria https://t.co/z3zPlD8sPc

— Celeb Dirty Laundry (@celebdirtylaund) January 1, 2019
As for Jill, the change in her marital status may be noteworthy. Walton has been working on recurring contract for a number of years, making Jill's various returns mostly about other character's lives, rather than her own.
Of course, Billy (Jason Thompson) remains Jill's main concern and she's a grandmother to his children. She was Cane's stepmother until she divorced Colin. But she's not going to break ties with Charlie (Noah Alexander Gerry), or Mattie (Lexie Stevenson), who she'll always see as her grandchildren. Plus, Y&R can never write enough scenes where Jill and Esther (Kate Linder) take jabs at each other, while also retelling Katherine-based (Jeanne Cooper) memories.
Considering the behind the scenes changes that took place at Y&R within the last month, it's plausible to believe that Walton could be offered (and accept) a return to regular status, or if not that, longer arcs to work sporadically. Whether new love will come to Jill's life, she'll be present at Chancellor Industries more directly, or another form of storyline unfolds, this tenured actor's efforts will always be welcomed by everyone who enjoys watching Walton's consistently outstanding performances.
Soap Opera Spy is a leading source for everything linked to 'The Young and the Restless'.