Young and the Restless Weekly Spoilers January 7 to 11: Temptation – Confessions – Surprise Visitors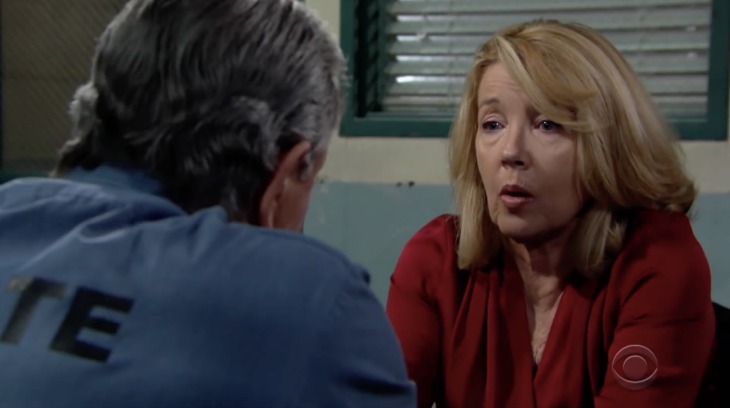 The Young and the Restless (Y&R) spoilers for the week of Monday, January 7 through Friday, January 11, 2019 reveal confessions, understandings and surprises. Some citizens of Genoa City end up in very complicated positions while others cross a dangerous line. Y&R fans will not want to miss out on what is coming, starting Monday, January 7, 2019 on the CBS soap opera!
Y&R sources tease that Nikki Newman (Melody Thomas Scott) reveals everything to Victor Newman (Eric Braeden), who insists she never speak of it again as he will take care of the situation and her. Jack Abbott (Peter Bergman) comes to the GCPD to visit Victor, what could these two enemies possibly talk about?
Meanwhile, Reed Hellstrom (Tristan Lake Leabu) wants to host a memorial for his father, JT (Thad Luckinbill), but things go awry when Phyllis Summers (Gina Tognoni) tries to prevent any confessions from being blurted out. She informs everyone that JT was abusive to Victoria Newman (Amelia Heinle), which shatters Reed and causes friction between Nick Newman (Joshua Morrow) and his lover. Mackenzie Browning (Kelly Kruger) returns to Genoa City for the memorial, surprising Reed.
Young and the Restless Spoilers Monday, January 7: Victor Vows To Fix Nikki's Mess – Sharon Makes Rey Suspicions – Reed's Tricky Suggestion @SoapOperaSpy https://t.co/pU0b9HpSBe #YR

— Soap Opera Spy (@SoapOperaSpy) January 5, 2019
The Young and the Restless spoilers show Sharon Newman (Sharon Case) isn't very good at trying to uncover anything; causing Rey Rosalez (Jordi Vilasuso) to become more and more suspicious of his coworker. Unfortunately, Rey and Sharon will end up in a complicated situation, when the roads become too icy and are forced to seek shelter in a local motel. It appears they are not the only two who will face temptation this week, as Arturo (Jason Canela) will go to Rey and Mia's (Noemi Gonzalez) apartment, where she is almost impossible to resist.
In other Y&R spoilers, Devon Hamilton (Bryton James) begins to feel comfortable and lets the "walls" down. Cane Ashby (Daniel Goddard) gets word from his wife, Lily (Christel Khalil); but it doesn't lighten his spirits. Will Cane continue to spiral out of control? Billy Abbott (Jason Thompson) will spot a close moment between Cane and Victoria, growing suspicious of the two. Kyle Abbott (Michael Mealor) may have finally made some headway with Lola Rosalez (Sasha Calle) when the young lovers exchange, "I love yous".
Be sure to tune into CBS' The Young and the Restless (Y&R) on Monday, January 7, 2019 to catch up on all the excitement happening in Genoa City right now. Check Celebrating the Soaps often for updates, news, rumors and spoilers!