Young And The Restless Spoilers: Audra Charles Clings To Kye Abbott For Information On Jabot
Young and the Restless (Y&R) spoilers hint trouble is on the horizon for Kyle Abbott (Michael Mealor) and Audra Charles (Zuleyka Silver). Now that Tucker McCall (Trevor St. John) is suddenly single and back in the picture, looks like the young Newman Media executive will be saying "buh-bye" to Abbott and "hey there" to her ex.
With that said, maybe she'll cling to Abbott in order to help McCall with his Jabot takeover.
The Young And The Restless Spoilers – Audra Charles's Demeanor Changed Right Away
Y&R spoilers suggest that it didn't take that long for Tucker to run back to his ex. It seemed like he was only in town for 20 minutes before they landed back into bed together.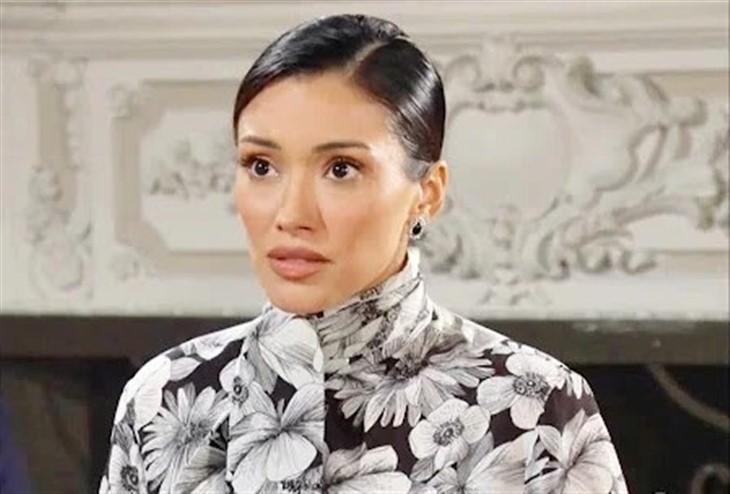 It's clear that Audra has more than just bedroom chemistry with McCall. Her entire demeanor towards Kyle changed as soon as she hopped back into bed with Tucker.
In fact, fans can see it in Audra's eyes: she has an emotional connection to McCall that she can't shake.
Tucker and Ms. Charles already have a deal; both are looking forward to taking over Jabot. Audra is ambitious, but McCall has made this personal.
Y&R Spoilers – Will Audra Charles Use Kyle Abbott For Jabot Information?
If Kyle wasn't an Abbott, Audra would've likely dumped him like an old habit after he saw her and Tucker walking down the stairs of the GCAC.
READ THIS: Find out what happens next on The Young and The Restless.
He wasn't too happy to see his current fling with his Aunt Ashley Abbott's (Eileen Davidson) "husband", but as he and Audra aren't boyfriend and girlfriend, and shouldn't be a thing thanks to the orders handed down by Nikki Newman (Melody Thomas Scott), he doesn't have a leg to stand on. He can't tell Ms. Charles whom she can or can't talk to.
Still, Audra is as sly as they come. She will manipulate encourage Kyle to better his relationship with his parents Jack Abbott (Peter Bergman) and Diane Jenkins-Abbott (Susan Walters), so that she can get some insider information to take back to Tucker. Kyle won't know what hit him when all is said and done.
Will Audra keep Kyle around, just to gather Jabot intel for Tucker? Share your thoughts below.
Watch the popular CBS soap daily to see what happens next and visit this site regularly for the best Young and the Restless updates, spoilers, and news.
For more about what's happening on your favorite soaps and more ways to connect with us, join the conversation on our Facebook Page, check out our Twitter feed, look for an update on our Instagram, follow us on Threads , Always stay up-to-date with us on Google News, or drop us an e-mail HERE! See you there!