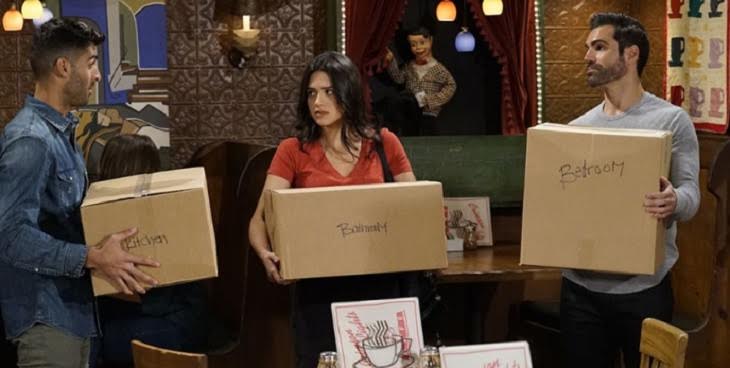 The Young and the Restless (Y&R) writers shook up Genoa City by adding a new family to the show. Rey (Jordi Vilasuso), Lola 9Sasha Calle), and Arturo (Jason Canela) sat down for a joint interview to talk about Y&R and what is like to work together.
First Impressions on Young And The Restless
The actors all agreed when they first met, they had instant chemistry and knew this was going to be a great working relationship. They get along and they are all three very talented. Sasha added when she met them, she called her mother and told her that she on-screen brothers are so handsome.
Young And The Restless Embracing Latin Culture
Jordi said that he's so humbled that the show is embracing Hispanic culture by accurately writing the Rosales family. He continued that Hispanic people are often touchy-feely, loud, and very affectionate. Canela said that he has received many messages on social media from other Spanish people, praising him for representing their culture.
Nick did say he would do anything for Phyllis! 🤷‍♂️ #YR pic.twitter.com/qlTSDdGnbE

— Young and Restless (@YandR_CBS) December 6, 2018
Young And The Restless Spoilers – The Working Class
Sasha admitted she feels privileged to represent Genoa City's working class. Everyone on the show is rich, except the Rosales family. They live in a small apartment and do not make much money. They admit o struggling to pay for bills and such. For many viewers, it is refreshing to the writers making an effort to show the family realistically.
Sasha Has An Infectious Laugh
As for the one trait they love about each other, the men agreed, Sasha's laugh should be entered into the hall of fame. They noted it is amazing and once she starts laughing, they join in.
Are you happy the writers introduced the Rosales family? Don't forget to come back for more The Young and the Restless (Y&R) spoilers, news, and casting updates!