Young And The Restless Spoilers: Victoria & Nate's Affair Becomes A PR Issue For Newman Enterprises
Young and the Restless spoilers for May Sweeps hint that Victoria Newman (Amelia Heinle) and Nate Hastings's (Sean Dominic) affair is about to blow up in their faces. Looks like Elena Dawson (Brytni Sarpy) will soon find out what the two have been up to, and she'll take action. That likely means far more than just trying to bring JT Hellstrom (Thad Luckinbill) back to Genoa City.
But what will Elena do to leave Newman Enterprises and the entire Newman family in damage-control mode? Will it even be Ms. Dawson who causes a PR issue?
The Young And The Restless spoilers – Elena Dawson Pulls A Major Move
Y&R spoilers for the week of May 8th imply that Elena will make a bold move. Could she reach out to some major publications and tell them what really goes down at Newman Enterprises after work and during "business" trips?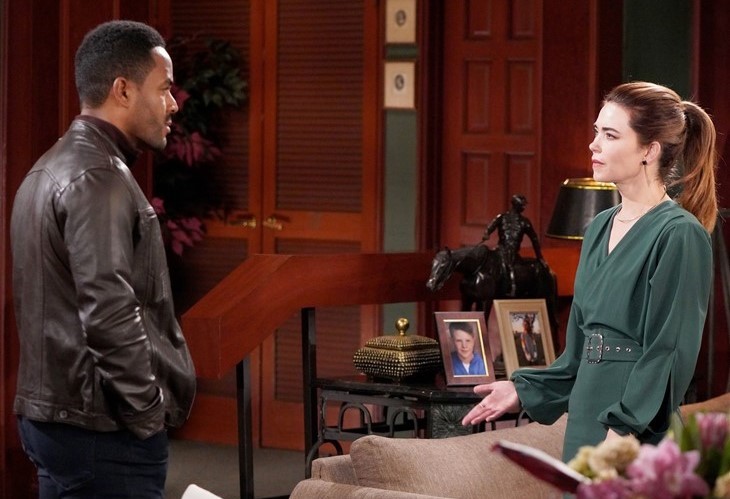 On the one hand, this would make for a spicy expose. Then again, why would anyone care about two colleagues having an affair? People cheat on people all the time. Still, the way Sally Spectra (Courtney Hope) was fired from Newman, only for Hastings to replace her, may make for some great gossip news. The fact that Nate has only used all of Spectra's ideas to run Newman Media could add some juice to the story, too.
Y&R Spoilers – Nate Hastings Is Fired, Files A Sexual Harassment Legal Suit
Y&R spoilers for May Sweeps also tease that Nate and Vic's affair could become a PR nightmare for Newman Enterprises. Once again, a story about an affair would be controversial, but not exactly a PR "nightmare". Victor Newman (Eric Braeden) will soon grill Nate about his fling with Vic. Could the Moustache fire Hastings on the spot if they get into it? With Vicky actively pursuing Nate, could the former doctor-turned-corporate-executive turnaround and sue Newman Enterprises for sexual harassment? That certainly would create a PR disaster for the company.
What kind of PR nightmare will Newman Enterprises face in May? Join the discussion below. Make sure to watch Y&R daily on CBC to see what happens next and visit this site for all the most up-to-date Young and the Restless news and spoilers.