The Bold And The Beautiful Spoilers: Finn Makes Next Trip? – Steffy's Visit Leaves Cell Door Open
The Bold and the Beautiful spoilers document that John Finn Finnegan (Tanner Novlan) bristled when his wife said who she would be visiting. The call Steffy Forrester Finnegan (Jacqueline MacInnes Wood) made was not social.
Seeing Sheila Carter (Kimberlin Brown) is never pleasant and does not produce progress. So, Finn was uncomfortable with Steffy wanting to make contact with his birth mother at the prison where she is being held on a murder charge.
Steffy told him not to worry because the environment Sheila lives in now provides plenty of protection. While true, any interaction with Sheila can cause psychological cuts and allow her to use a guest as a weapon aimed at someone on the outside, like Finn.
So, will Steffy's visit with Sheila, where Brown's character again threatened her daughter-in-law result in Finn feeling compelled to visit the prison?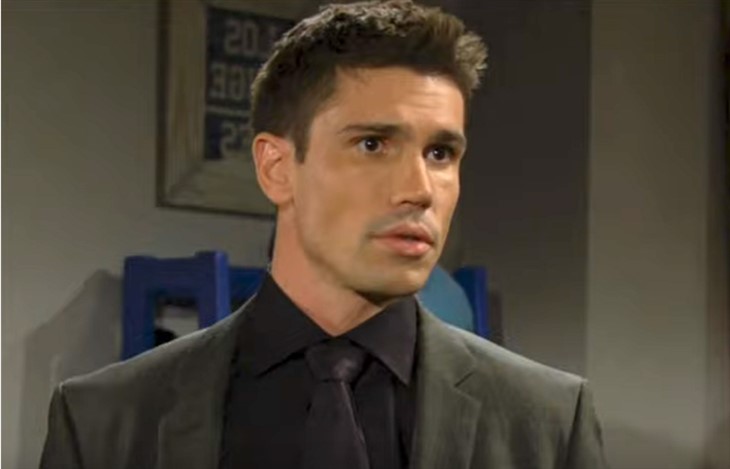 The Bold And The Beautiful Spoilers – Never Going Back To Prison Again?
Sheila insisted to Deacon Sharpe (Sean Kanan) that she was never going back to prison while they were living together. Those Il Giardino apartment days represent their best moments now because Sheila's proclamation failed to hold.
Brown's character is in prison because she fell for Bill Spencer's (Don Diamont) ploy. He and Ridge Forrester (Thorsten Kaye) banded together, worked with the government, and got Sheila to confess to murder.
Viewers wondered whether Sheila's latest arc climaxed and that jail visits would produce a farewell sendoff until she reappeared somewhere down the road. But an extended jail stay is now questionable.
B&B Spoilers – Email Remains An Effective Communication Tool
Sheila spoke to herself, which provided needed information to the audience, saying that she sent an email. The inmate was happily surprised that whoever she contacted arrived.
Mike Guthrie (Ken Hanes) said he had to pull some strings to see his longtime, unrequited love. But their visit ended the moment the prison guards began preparing Sheila for her next guest.
The man who sees Sheila is apparently part of the get-out-of-jail plan she is working on. Brown's character told Mike that she was not going to be incarcerated indefinitely.
Mike felt Sheila was being delusional. But the fans know not to discount her ability to accomplish that goal.
The Bold And The Beautiful Spoilers – John Finn Finnegan Part Of The Plan
Finn has no desire to see Sheila released. He did not initially recognize the danger she posed to everyone, but he does now.
So, Sheila's reference to her son's importance in her plans, her connection with an outside source, and Steffy's visit indicate more soapy action is coming on B&B.
This site is a leading source for everything linked to The Bold and the Beautiful. Check back regularly for B&B spoilers and news!