Y&R Spoilers: Tucker Blows Ashley Romance, Schemes With Audra Again
Young and the Restless (Y&R) spoilers suggest heartache is on the horizon for Ashley Abbott. Actress Eileen Davidson was recently on The Talk to promote Y&R's 50th-anniversary celebrations, and during the show, she hinted that she felt "sorry" for what is to come for her character. Will Tucker McCall (Trevor St. John) screw up his umpteenth chance with the lady of his dreams?
The Young And The Restless Spoilers – Tucker McCall & Ashley Abbott Have Chemistry, But McCall's Antics Get In The Way, Every Time!
Y&R spoilers imply that there will be plenty of ups and downs for Tucker and Ashley as they give their romance one more try. It's undeniable that these two make a cute couple, and McCall is truly one of Ms. Abbott's greatest loves.
She's helping him pick up the pieces of his life by buying his debt and encouraging him to sell his company to Devon Hamilton (Bryton James) to strengthen their father-son bond.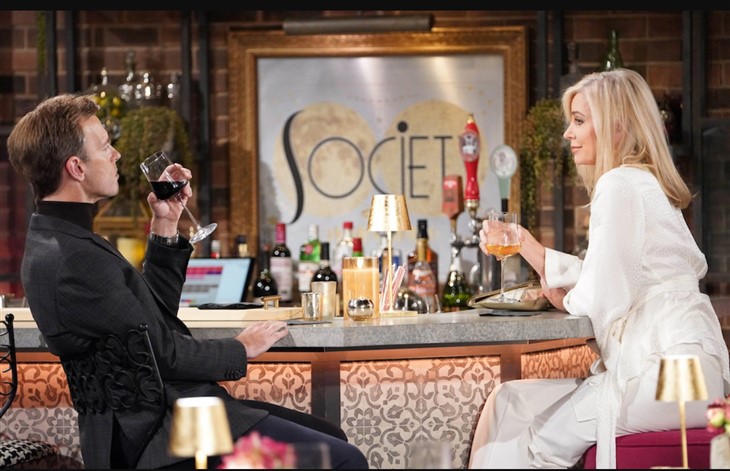 Fans can tell by now that Ash did this because there is a place deep down inside her that wants to mold Tucker into the man, she believes he can be. While she has tried to keep her emotions out of this all, it's clear she is falling for McCall, once again.
The sparks between them while they talk things out, and during the recent bicentennial gala proves that as hard as Ms. Abbott tries to deflect her feelings, she's still in love with Tucker, even though he doesn't deserve her.
Y&R Spoilers – Tucker McCall Turns To Audra Charles For Help With The Sale Of McCall Unlimited
Y&R spoilers for the week of April 3rd suggest that Tucker and Audra Charles (Zuleyka Silver) will scheme together. Yikes! While all the secrets of what McCall had been up to since his return to Genoa City were recently revealed, one that was not was the nature of the relationship he and Audra shared.
Yes, they were mutual schemers, but they were also mates in the bedroom. While Tucker will likely use Audra for intel when it comes to the sale of McCall Unlimited to Newman, the truth will come out (eventually) about this new scheming, and there's also a good chance Ash also learns the truth about their past affair.
What are your thoughts on Tucker and Audra "working" together again? Have your say, below! Tune in to the Y&R daily on CBS and visit this site often for all the latest Young and the Restless news and spoilers.