Survivor Makes History, Jeff Probst Reacts To Breakthrough Scene!
Survivor spoilers reveal that season 45 just made history. And Survivor host Jeff Probst revealed his shocking reaction.
Find out about the CBS show's historical episode. And keep reading to learn how Probst reacted.
Survivor Spoilers – Jeff Probst Gets 'Inspired'
Amid Survivor's 45th season, CBS has expand to 90 minute episodes. And the network just featured a Survivor first. The newest episode included a flash-forward scene revealing what happens at Tribal Council via Yahoo.
And host Jeff Probst, who also serves as Survivor producer, felt stunned at seeing that breakthrough sequence. The way that the episode featured scenes of Tribal Council amid players rushing around on the beach impressed even Probst.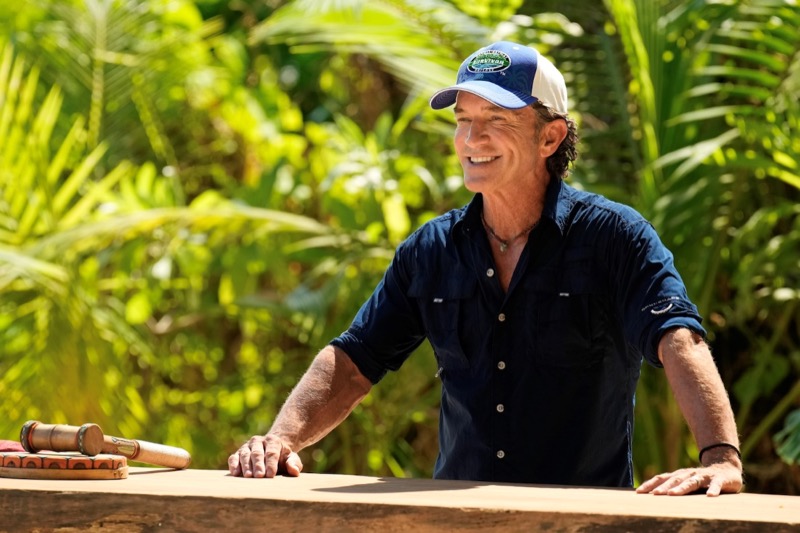 And he recalled seeing the flash forward. "Here's this scenario. I'm on my back deck calmly sitting. It's a Saturday morning, I'm drinking a cup of coffee and I'm watching this episode. And when I saw this moment, I was so inspired that I unconsciously sort of jumped out of my chair. I splashed coffee all over my MacBook because I was racing to get my phone to call the editor Fred Hawthorne to ask where this inspired idea came from."
Survivor Spoilers – Jeff Probst Reacts To Flash Forward
And after so many seasons, Probst reflected on how Survivor editors succeeded in mixing Jake discussing his views on Tribal Council with the actual reveal of different votes at the gathering. Because it marked a first in Survivor history, it helped viewers understand how contestants can fail to fully assess how votes can shift.
And as Probst watched, he described his thought process. "I started watching and then I realized: Wait a minute, this is tonight's Tribal. And it was a really interesting moment for me," he revealed. "Because I am watching the episode as a producer, because this is the last stop before we send it to the network. So that's first and foremost what's on my mind."
However, Jeff pointed out that he also remains a fan of Survivor. "But you can't help but also watch as a fan because the episodes are so good.So when this moment hit, my mind exploded, my knees jumped off." And that led to the Survivor host spilling coffee all over his MacBook.
As a result of that flash forward, fans have speculated about whether season 45 will include more such sequences. But the current season already has offered some shockers. Episode one showed Survivor player Brandon Donlon struggling. And quitters abounded. Plus: Survivor's theme song made a comeback as did the fan-beloved Survivor auction.
Tell us what you think. How did you react to seeing Survivor air its first flash forward scene? And after you share your views, check back on our site for more TV news.