Days Of Our Lives Spoilers Monday, June 26: Rolf Returns, Theo's Imposter, Rafe's Career Risk
Days of Our Lives spoilers for Monday, June 26 reveal that Li Shin (Remington Hoffman) welcomes Dr. Wilhelm Rolf (Richard Wharton) back to Salem. Abe Carver (James Reynolds) accuses Jerry Prentiss (Terrell Ransom Jr) of being an imposter. Plus, Rafe Hernandez (Galen Gering) and Jada Hunter (Elia Cantu) give in to their passion. Elsewhere, Kate Roberts Brady (Lauren Koslow) gets frantic.
Days Of Our Lives Spoilers – Rafe Hernandez's Career Risk
DOOL spoilers for Monday, June 26 reveal that Rafe will take a big career risk. Even though many Salem Police Department employees have dated and even married in the past, a new company policy changed that. Rafe and Jada have feelings for each other, but situations kept popping up to block them from being together.
Once Rafe and Jada were ready to explore their new dynamic, the new dating policy at work thwarted the romance. However, Rafe and Jada will end up giving in to temptation. This will pose a risk to both of them career-wise. However, Rafe is the commissioner and Jada's direct supervisor, so he could bear the brunt of the consequences.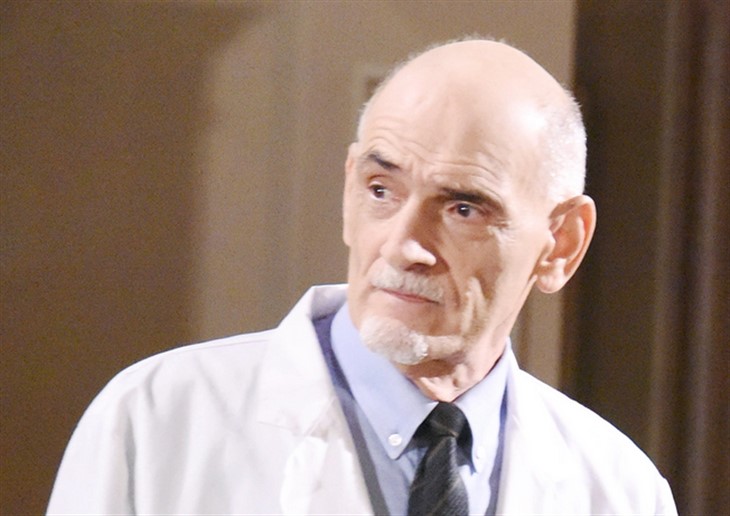 DOOL Spoilers – Theo Carver's Imposter
On Monday, June 26, fans can expect Jerry to pretend he is Abe's son, Theo Carver (Cameron Johnson). Nurse Whitley King (Kim Coles) paid Jerry to impersonate Theo. However, Abe suspects that something just isn't right with this whole situation. Expect Abe to accuse Jerry of being an imposter. Now, will Jerry confess that he was hired by Whitley? Or will Jerry tell Whitley that the scheme isn't working?
Days Of Our Lives Spoilers – Dr. Wilhelm Rolf Returns
Days of Our Lives spoilers for Monday, June 26 reveal that Li was tempted by Megan Hathaway DiMera (Miranda Wilson). Li will do anything to get Gabi Hernandez (Camila Banus) back. Now, Megan needs Rolf to control Harris Michaels (Steve Burton). So, Li will welcome Rolf back to Salem.
DOOL Spoilers – Monday, June 26
On Monday, June 26, Megan sets a date for Gabi and Stefan DiMera's (Brandon Barash) engagement party. Meanwhile, Kate worries that Harris won't be able to take care of Megan. A photo published in the latest issue of Soap Opera Digest shows Harris strapped to a medical table. So, it sounds like Li and Rolf will blindside Harris.
Which storyline are you looking forward to seeing the most on Monday, June 26? What are your predictions for Rafe, Jada, Jerry, Whitley, Abe, Theo, Paulina Price (Jackee Harry) and Chanel Dupree (Raven Bowens)? What does the future hold for Li, Megan, Gabi, Stefan, EJ DiMera (Dan Feuerriegel), Kristen DiMera (Stacy Haiduk) and the rest of the Salemites? Share your thoughts in the comment section below. Remember to keep watching the soap on Peacock to find out what happens next.
Be sure to catch up on everything happening with DOOL right now. Come back often for Days of Our Lives spoilers, news, and updates.