B&B Recap And Spoilers Monday, August 7: Liam Supports Steffy, Li Blasts Finn, Hope Demands Respect
The Bold And The Beautiful (B&B) spoilers for Monday, August 7 reveal that Kelly Spencer (Sophia Paras McKinlay) tries to reassure Liam Spencer (Scott Clifton) and Steffy Forrester (Jacqueline MacInnes Wood) that she is ok.
John "Finn" Finnegan (Tanner Novlan) tries to convince Li Finnegan (Naomi Matsuda) that Liam is undermining his marriage. Hope Logan (Annika Noelle) is glad to have a distraction right now.
The Bold And The Beautiful Spoilers – Hope Logan Is Tired Of Sharing
Hope is still thrilled about modeling with Brooke Logan (Katherine Kelly Lang) in Rome. Brooke says Rome was magnificent.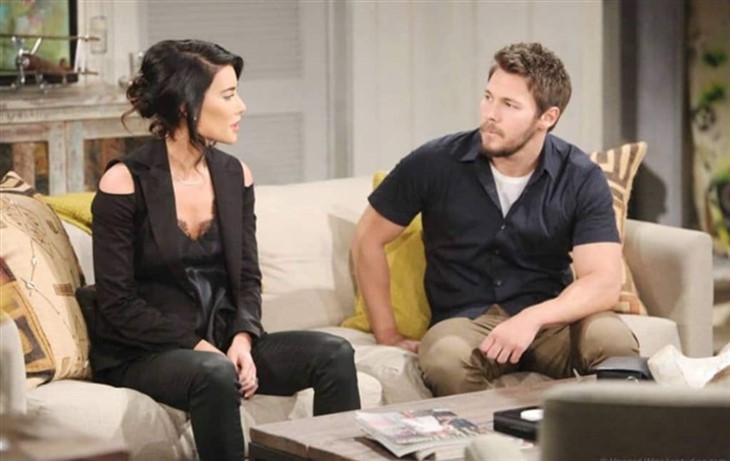 Brooke asks if Hope and Liam are going through with the divorce. Brooke pushes Hope to make things right with Liam. Hope refuses to live the way Brooke did with Ridge Forrester (Thorsten Kaye). Hope doesn't want to come in second to anyone.
Brooke says if things are over with Hope and Liam, where does that leave Thomas? Hope doesn't know. Hope says when she is with Thomas, she is his everything.
Hope says Brooke has no idea how good that feels. Hope feels free and doesn't want to be a part of Liam's drama anymore. Hope says Steffy has always paid a huge part in her marriage and she isn't doing it anymore.
Hope doesn't have time to fight for someone's affection. Brooke says if Hope loves someone she needs to persevere. Hope is tired of Steffy always being a part of her marriage. Hope wants to be with someone who respect her and put her first.
B&B Spoilers – John Finnegan Believes His Marriage Can Be Saved
The Bold And The Beautiful spoilers LI says Sheila is the reason all of this is happening. Sheila should still be in prison, Finn agrees. Li demands to know why Finn would embrace Sheila.
Finn cannot explain why he feels something for Sheila. Finn tries to defend his actions to Li. Li says she doesn't blame Steffy for packing up and leaving.
Steffy says Finn has always put her and the kids first. Steffy questions how she is supposed to trust Finn now. Steffy tells Liam that Finn told her to cut Sheila some slack.
Liam says Steffy's feelings are valid. Liam is just as shocked about Finn as Steffy is. Liam is there and Steffy can lean on him, he's not going anywhere.
Finn doesn't understand how Li could be ok with Steffy leaving him. Finn asks if he isn't supposed to say anything in favor of Sheila when she saved Kelly's life.
Li tells Finn what happened cannot happen again. Steffy has great maternal instinct and she didn't feel safe there. Li believes Finn can fix this if he stays away from Sheila. Finn believes his marriage can withstand Sheila and Liam.
Finn stands alone at the cliff house and thinks about his reunion with Steffy in Monaco. Finn looks at their photo and says he and Steffy lost each other once, he's not going to let that happen again.

B&B Spoilers: Liam Spencer Vows To Be There For Steffy Forrester
Liam tells Kelly he will always love her and Mommy. Liam tells Steffy he meant what he said about Kelly and Steffy. Steffy says Kelly wants to play another game.
Liam says when Kelly calms down, she will crash. Steffy is letting Kelly sleep in tomorrow. Liam is shocked that Steffy took the kids and left the house. Steffy says Finn is too vulnerable to Sheila.
Liam is convinced that Steffy has done the right things. Eric Forrester (John McCook) has amped up the security. Liam is going to do all he can to support Steffy and the kids as well.
Be sure to catch up on everything happening with B&B right now. Come back here often for The Bold And The Beautiful spoilers, news, and updates.