Prince Harry Shocks With London Appearance: Here's Why!
Royal family news just served up a surprise appearance from Prince Harry in London. But the Duke of Sussex didn't make the trip overseas from his California mansion for a vacation. And reports reveal that Harry traveled to London for a court case.
Find out what made the Duke of Sussex decide to show up in London. And learn who joined him (hint: NOT Meghan Markle!). Get all the royal details below.
Prince Harry Heads To London For Court Case
Royal family reporters usually reveal Prince Harry's plans. But the Duke of Sussex managed to travel to London without any media reports. And Harry surprised royal news watchers by appearing in London on Monday, according to People.
Meghan Markle's 38-year-old hubby headed to the High Court for a legal case. And Harry has joined celebrities such as Elton John, Elizabeth Hurley and Jude Law's ex-wife Sadie Frost in a lawsuit against Associated Newspapers Ltd (ANL). Publisher of the Daily Mail and Mail on Sunday, ANL allegedly gathered information illegally.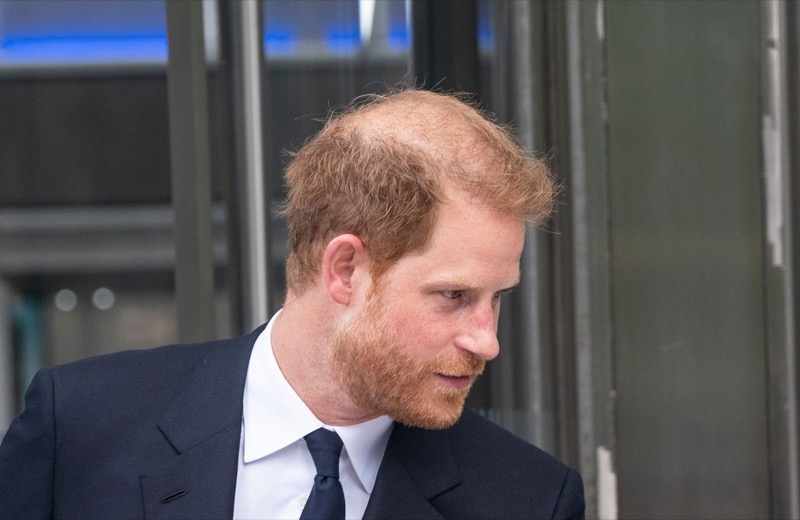 Showing how seriously he takes the case, Prince Harry focused on the proceedings. Listening carefully, he wore a white shirt, tie, and dark suit for the occasion. And the Duke of Sussex chose a seat two rows behind the lawyers.
Prince Harry Contacts King Charles And Prince William
The hearing will last for four days. And after listening to legal arguments from each side, it will end with a judge ruling on whether the case will go to trial. However, Associated Newspapers has made the argument that the entire case should be dismissed.
Harry's visit to London marks his first time since the funeral of his grandmother Queen Elizabeth in September. And the Duke of Sussex made the decision to travel in order to underscore how seriously he takes the case. Before heading to London, the Duke of Sussex told his father King Charles and brother Prince William about his plans. However, it reportedly seems unlikely that Harry will visit with his brother William during his visit.
The Duke of Sussex arrived at the High Court in London on Monday for a hearing in his claim against Daily Mail publisher Associated Newspapers pic.twitter.com/8Y2OjZLyZR

— PA Entertainment (@PAshowbiz) March 27, 2023
William has taken a vacation with his wife Kate Middleton because of the couple's three children. Prince George, 9, Princess Charlotte, 7, and Prince Louis, 4, are enjoying a break from school. And King Charles will travel with Queen Camilla to Germany on Wednesday, raising questions about whether Harry will meet with his father.
Prince Harry Claims He Became Victim Of 'Criminal Activity'
The court case focuses on allegations that seven individuals including Harry became "aware of compelling and highly distressing evidence that they have been the victims of abhorrent criminal activity and gross breaches of privacy by Associated Newspapers." Those involved in the lawsuit allege that private investigators placed listening devices in their cars and homes. Other allegations include unlawful practices such as recording private phone calls and impersonating others to get medical details.
Associated Newspapers has denied the claims and termed them "preposterous smears." In addition to this lawsuit, Prince Harry has undertaken other cases against British newspaper groups. And Harry was not alone in showing his support by appearing in court. Elton John showed up at the High Court later that day. And Sadie seated herself near Harry.
Tell us what you think. Do you believe the allegations that Prince Harry has made in the court case? And after you share your views, check back on our site for more royal family news.
Editorial credit: lev radin / Shutterstock.com