B&B Recap And Spoilers Thursday, June 1: Katie Is Hopeful, Ridge Misses Brooke, Deacon's Plea
The Bold And The Beautiful (B&B) spoilers for Thursday, June 1 indicate Taylor Hayes (Krista Allen) says Deacon Sharpe (Sean Kanan) should reunite with Brooke Logan (Katherine Kelly Lang) and break this toxic cycle. Brooke and Ridge Forrester (Thorsten Kaye) watch one of Ridge "RJ" Forrester's (Joshua Hoffman) videos. Brooke loves having their family together.
The Bold And The Beautiful Spoilers – Katie Logan Pushes For A Reunion
Carter Walton (Lawrence Saint-Victor) and Katie Logan (Heather Tom) kiss before discussing the trip to Rome. Katie thinks this could be good for Brooke and Ridge. Carter agrees that Brooke and Ridge will likely go to Rome. Katie believes Brooke and Ridge should reunite if Ridge is ready.
Katie believes the trip to Rome will bring them together. Katie is surprised that Carter speaks Italian. Katie wants him to talk to her a little later. Katie is pushing for Brooke and Ridge to reunite there. Brooke is never happier than when she is with Ridge. Carter says Katie knows Taylor would have something to say when they return.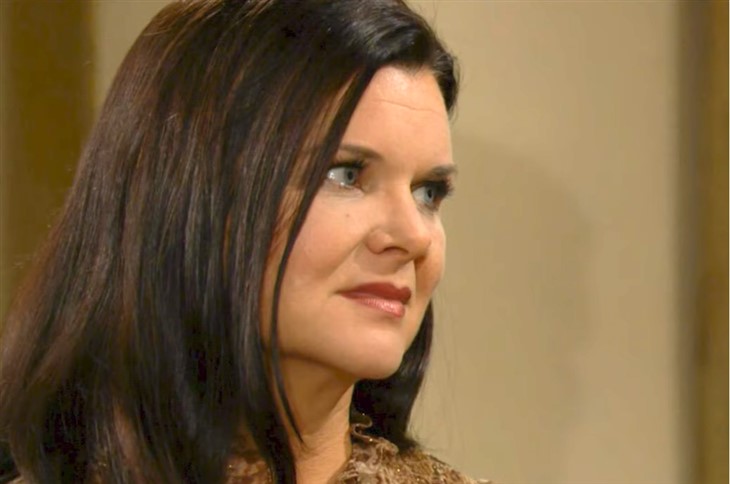 B&B Spoilers – Ridge Forrester Admits He Missed Brooke Logan
The Bold And The Beautiful spoilers reveal Ridge tells Brooke he learned that being away from her is hard and he doesn't want to do that again. Ridge misses Brooke. Ridge says his time in the penalty box has not been fun. Ridge is proud of Brooke and Taylor. Ridge thinks Brooke and Taylor were fighting about him. Brooke says they were fighting over the kids. Brooke knows Ridge is happy about her and Taylor's friendship.
Brooke tells Ridge she misses him too. Taylor arrives at the Forrester office. Ridge says Brooke is talking to Deacon and Steffy Forrester (Jacqueline MacInnes Wood) is in a meeting. Deacon waits for Brooke to arrive. Brooke and Deacon sit down to talk. Brooke worries that something is wrong with Hope. Deacon mentions Rome to Brooke. Deacon finds it hard to believe that Hope Spencer (Annika Noelle) is their child.
Deacon asked Brooke there because of what they shared once. Deacon apologizes for hurting Brooke all those years ago. Deacon believes Brooke came into his life to inspire him to be a better man. Deacon asks if Brooke knows how much influence she has had in his life. Brooke and Hope are two of the most important women in his life.
Deacon knows Taylor and Brooke have sworn not to pursue Ridge. Deacon is trying to put his life back together. Deacon wants to do everything he can to show her and Hope that he has changed. Deacon says he loves Brooke and asks her to come back to him.
B&B Spoilers – Taylor Hayes Wants Ridge Forrester Back
Taylor continues to push Deacon who tells her Brooke and Ridge are destiny. Taylor is sick of hearing that word. Taylor says Brooke and Ridge have broken up a lot. Taylor thinks Deacon could break that cycle. Deacon says Taylor may want to help him and Brooke but she wants to help herself too. Taylor wants to spend the rest of her life as Mrs. Ridge Forrester. Taylor has been trying to push away her feelings.
Deacon doesn't have anything to stop him from going after Brooke. Taylor wants to know what it would feel like to be a hero. Taylor pushes Deacon to call Brooke today. Ridge questions why Deacon would be calling Brooke if he didn't want money. Ridge days Deacon wasn't Brooke's finest hours. Taylor talks about what she and Ridge shared.
Be sure to catch up on everything happening with B&B right now. Come back here often for The Bold And The Beautiful spoilers, news, and updates.