The Bold And The Beautiful Spoilers: Brooke Falls For Her Daughter's Husbands-Could She Go Back To Her Pattern And Snatch Liam?
The Bold and The Beautiful spoilers and rumors tease that Brooke Logan (Katherine Kelly Lang) has a past pattern of falling for her daughters' husbands-and stealing them. It happened with Bridget Forrester (Ashley Jones) with Deacon Sharpe (Sean Kanan), producing Hope Spencer (Annika Noelle)-now that her marriage is in trouble could Brooke snatch Liam Spencer (Scott Clifton)?
The Bold And The Beautiful Spoilers – Could History Repeat Itself?
Brooke hurt her eldest daughter, Bridget, twice by stealing her men-first, Deacon, then Nick Marone (Jack Wagner); and however accidentally, had a one night stand with Oliver Jones (Zack Conroy). He was teenage Hope's first boyfriend and they were at a costume party and dressed alike-and afterwards, Brooke claimed she thought Oliver was Ridge Forrester (Thorsten Kaye). That time it may have been an accident and only a one-time thing, but wouldn't she have known the difference between Ridge's moves and Oliver's?
Brooke and Hope have talked many times recently about Brooke's patterns, and Hope has been afraid hers were becoming like her mother's. Liam's and Hope's marriage seems destined to break-but will her mother give into her patterns and strike the final blow?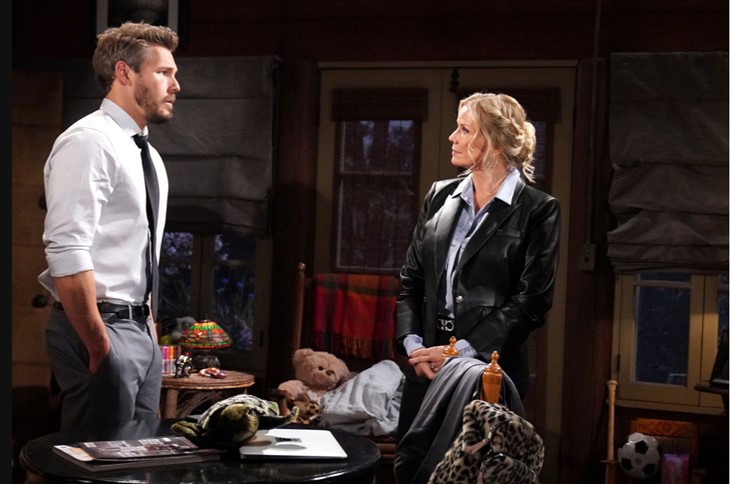 B & B Spoilers – Liam Spencer And Brooke Logan Are Close
Brooke and Liam are already close, having bonded over their many discussions and fears regarding Thomas Forrester (Matthew Atkinson)-they have worried together many times. There is a bond already there, and Brooke has resisted Thomas' mother's Taylor Hayes (Krista Allen) many recent matchmaking attempts. Brooke may be secretly hanging on with hopes to reconcile with Ridge, but what if he goes back with Taylor? As for Liam going back to Steffy Forrester-Finnegan, (Jacqueline MacInness Wood) she's much too happy with John "Finn" Finnegan (Tanner Novlan) and a 'Steam' reunion's just not happening.
The Bold And The Beautiful Spoilers – 'Thope' And 'Tridge' Happen, Then 'Briam'?
If despite everyone's best efforts, Thomas and Hope couple up, Hope giving into her secret passions, and Ridge choses Taylor, who's left for Brooke, and who's left for Liam? It wouldn't be the first time for Liam to couple up with a woman old enough to be his mother, having amnesia and cougar Quinn Fuller (Rena Sofer) taking advantage. Liam doesn't seem the sort who can be alone for very long, and there's a lack of single women he could connect with.
'Briam' could start just like 'Thope' has, with one feeling misunderstood and the other providing understanding and comfort. And with Hope not caring about Liam any more, her mother might be more than willing to fill the gap!
Be sure to catch up on everything happening with B & B right now. Come back here often for The Bold and The Beautiful spoilers, news, and updates.