B&B Recap And Spoilers Thursday, May 4: RJ Refuses To Design, The Count Is A Fraud, Hope's Fantasies Continue
The Bold And The Beautiful spoilers for Thursday, May 4 reveal Ridge Forrester (Thorsten Kaye) pushes Ridge "RJ" Forrester (Joshua Hoffman) to draw a design for him. Thomas Forrester (Matthew Atkinson) is sketching a new drawing. Hope is glad Thomas is working with her. Count Bouche (Jimmie Walker) promises to make Il Giardino unforgettable.
The Bold And The Beautiful Spoilers – Count Bouche Auditions For A Job
Count Bouche promises results. Deacon wants to know who Bouche has worked for before. Bouche refuses to talk about his other clients. Deacon needs to know more about Bouche's work. Bouche's grandson says he is hungry. Deacon promises to feed the child. Bouche looks over the wine list and decides to put him to the test.
Deacon decides to pour three glasses of wine and wants Bouche to tell him where they are from. Bouche's grandson tells him which wine is which. Bouche obviously knows nothing about the job he has been hired to do. Deacon seems to believe that Bouche knows his stuff.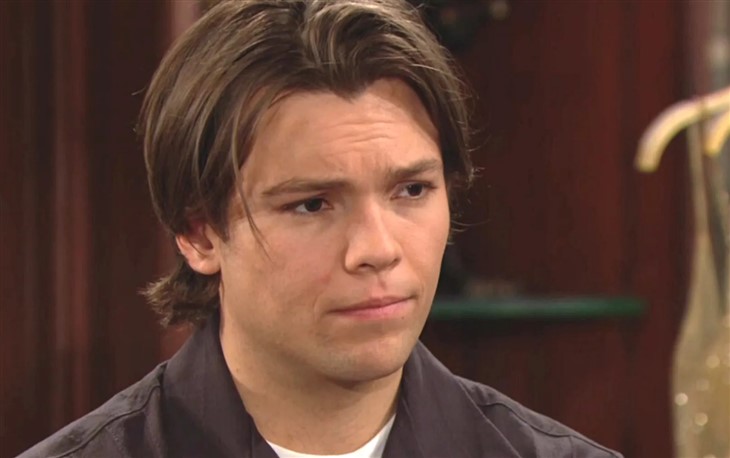 B&B Spoilers – Hope Spencer Continues To Be Impressed
The Bold And The Beautiful spoilers indicate Hope suggests a design and Thomas is determined to draw it. Hope has the best ideas. Hope is proud of Thomas and all of the growth he has been showing. Hope says it shows in his work. Thomas didn't know if he would be any good. Hope says Thomas' designs are on a deeper level now. Thomas says Hope inspires him.
Hope says Thomas has finally found peace. Thomas brings a design for Hope to check out. Hope offers to try the dress on. Hope hears Brooke Logan's (Katherine Kelly Lang) voice as she works with Thomas. Hope is excited about the design. Thomas needs to change the hem a little bit. Thomas says it is great they can work together. Hope is obviously attracted to Thomas and is doing everything she can not to admit it.
The Bold And The Beautiful Spoilers – RJ Forrester Does Not Want To Design
Ridge continues to pressure RJ. Charlie Webber (Dick Christie) interrupts Ridge and RJ. RJ tells Charlie he interrupted Ridge's speech. Ridge remembers the first time he did this. Charlie gets this feeling when he goes skinny dipping. Ridge hands RJ a pencil and tell him to make a statement.
RJ begins drawing, Ridge pushes Charlie to leave. RJ draws a picture of Ridge. RJ says Ridge inspires him and he doesn't want to disappoint him. RJ says Ridge used to do this when he was younger too. RJ doesn't want to design, he wants to build his own brand. RJ says he doesn't want to disappoint his father.
Be sure to catch up on everything happening with B&B right now. Come back here often for The Bold And The Beautiful spoilers, news, and updates.