B&B Recap And Spoilers Tuesday, July 25: Liam Vows Protection, Steffy Demands Cooperation, Brooke Opens Up
The Bold And The Beautiful spoilers for Tuesday, July 25 indicate that Wyatt Spencer (Darin Brooks) cannot believe that John "Finn" Finnegan (Tanner Novlan) hugged Sheila Carter (Kimberlin Brown). Liam Spencer (Scott Clifton) is determined to find out why.
Steffy Forrester (Jacqueline MacInnes Wood) demands to know if Finn realizes that Sheila belongs in prison. Brooke Logan (Katherine Kelly Lang) thinks about walking in on Thomas Forrester (Matthew Atkinson) and Hope Spencer (Annika Noelle). Ridge Forrester (Thorsten Kaye) comes to talk to Brooke. Hope thinks about signing the divorce papers.
The Bold And The Beautiful Spoilers – Ridge Forrester Learns A Shocking Truth
Ridge believes that Brooke is upset about Sheila. Brooke doesn't understand how this happened. Ridge explains that the confession wasn't legal. Brooke is worried about the family, especially Hope. Brooke is very worried about Hope. Brooke has struggled with whether to tell Ridge about this or not because she was sworn to secrecy. Brooke doesn't want to keep secrets and it was far more than one kiss.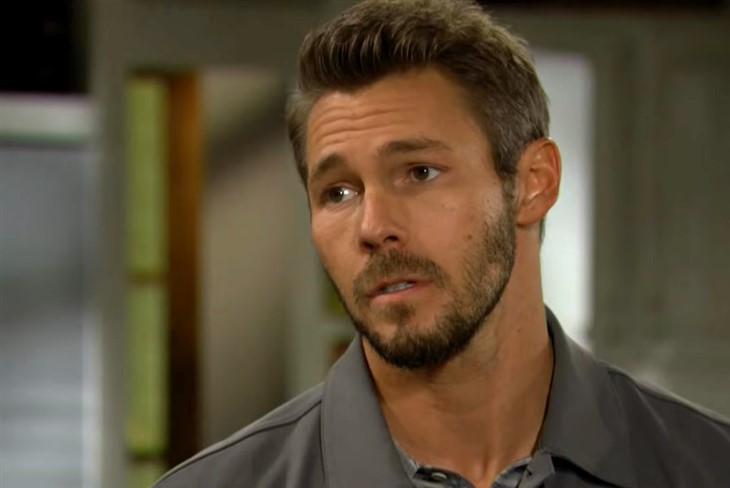 Brooke tells Ridge that she suspected that Hope was developing feelings for Thomas. Brooke says she found Hope and Thomas in bed together. Ridge asks how Brooke discovered this. Brooke says she went to talk to Thomas and the door was unlocked. Brooke went upstairs and found them. Ridge asks if Liam knows. Ridge is worried about Thomas becoming obsessed again. Ridge asks if Brooke thinks Hope has feelings for Thomas.
B&B Spoilers – Hope Spencer And Thomas Forrester Reconfirm Their Relationship
The Bold And The Beautiful spoilers reveal that Hope is thinking about her and Thomas' relationship. Hope remembers her and Thomas' time in Rome and in bed together. Thomas arrives and says he believes Hope is thinking about them. Hope smiles. Hope was thinking about that but about Sheila as well. Thomas vows to protect Hope and the kids.
Hope doesn't believe that Liam meant it when he said that. Hope tells Thomas about signing the divorce papers. Thomas says that Hope and Liam were together for a long time. Hope doesn't want her child to grow up in a broken home.
Hope says that Liam didn't want to work things out. Liam couldn't forgive her. Liam wasn't interested in fighting for their marriage. Thomas doesn't understand this either. Hope says that Liam wants his life with Steffy. Hope talks about her marriage ending. Hope doesn't want to forget what she and Thomas shared either. Hope and Thomas kiss.
The Bold And The Beautiful Spoilers – John Finnegan Promises To Protect His Family
Finn is just as shocked as Steffy that Sheila was released. Steffy wanted to come home and realize the babies were safe finally. Steffy continues to make plans to keep Sheila away from them. Steffy tells Finn that they have to keep Sheila away from them all. Steffy locks up everything at the house. Finn has to go to work. Steffy insists that Sheila needs to stay away. Steffy begins to jump at every sound she hears.
B&B Spoilers – Wyatt Spencer Believes Liam Spencer Is Overreacting
Wyatt accuses Liam of overreacting because of his feelings for Steffy. Wyatt believes that Liam is being unfair to Finn. Liam is going to be protective over Steffy and their daughter. Liam isn't about to let Finn drag Sheila back into their lives. Liam saved Steffy's life before, he's not going to lose her now over Sheila.
Be sure to catch up on everything happening with B&B right now. Come back here often for The Bold And The Beautiful spoilers, news, and updates.
For more about what's happening on your favorite soaps and more ways to connect with us, join the conversation on our YouTube Page or our Facebook Page, check out our Twitter feed, look for an update on our Instagram, follow us on Threads , Always stay up-to-date with us on Google News, or drop us an e-mail HERE! See you there!