B&B Recap And Spoilers Monday, July 24: Bill's Disbelief, Brooke Stunned, Liam Spies, Mike Shocked
The Bold And The Beautiful spoilers for Monday, July 24 reveal that Bill Spencer (Don Diamont) argues that the judge cannot let Sheila Carter (Kimberlin Brown) go.
Nothing can be done about other charges because they were dropped. The judge had no choice but to set Sheila free. Sheila pulls John "Finn" Finnegan (Tanner Novlan) in a hug and Liam Spencer (Scott Clifton) records them.
The Bold And The Beautiful Spoilers – Brooke Logan Is Stunned
RJ Forrester (Joshua Hoffman) questions Brooke Logan (Katherine Kelly Lang). Hope hasn't heard anything from the trial. Brooke is convinced that Sheila will go to prison.
RJ cannot believe everything Bill did to put Sheila away. Brooke says they never have to deal with Sheila again. RJ talks about how much danger the baby could be in.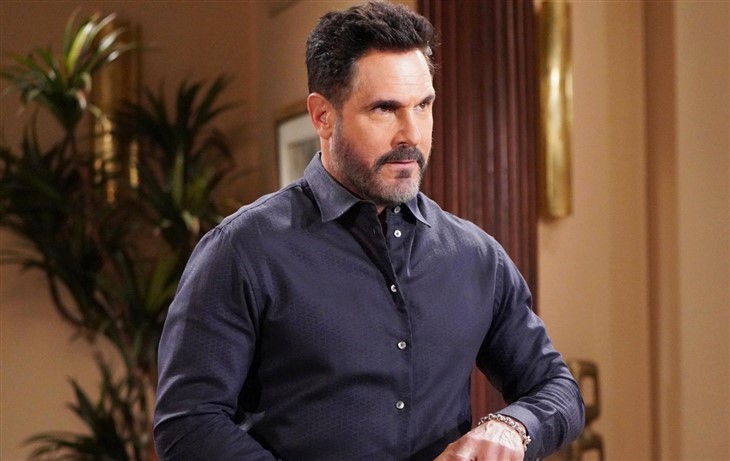 Brooke says being connected to Sheila is devastating. RJ wants to throw a small celebration, Brooke is on board for that. Ridge, Bill, and Carter break the news to Brooke and RJ.
B&B Spoilers – Liam Spencer Spies On John Finnegan
The Bold And The Beautiful spoilers an office comes and takes Sheila away for processing. Liam checks his phone before following Finn inside to speak to Steffy.
Bill wants to file a complaint against the judge. Carter Walton (Lawrence Saint-Victor) what to know what else they can do to put Sheila away. Carter says the judge is right about the evidence and nothing can be done.
Steffy Forrester (Jacqueline MacInnes Wood) is freaking out now that Sheila is on the loose. Finn tries to call Steffy down. Steffy says Sheila acts like she has some kind of claim to Finn. Steffy wants Finn to promise not to see Sheila again. Liam tells Wyatt Spencer (Darin Brooks) that Sheila was released. Wyatt doesn't understand why. Liam says Sheila is free and they all have to deal with it.
Steffy needs to find someone who specializes in kidnapping. Steffy doesn't understand how the judge let Sheila walk. Steffy wants to know why Finn isn't upset.
Steffy wants Finn to admit that he understands that Sheila has to stay away from them. Wyatt doesn't understand how any of this could happen. Liam tells Wyatt that Finn left so he followed him.
Liam tells Wyatt about seeing Finn and Sheila hugging. Wyatt doesn't understand why Finn would have anything to do with Sheila. Liam is determined to figure out why. Liam says Finn seems incapable of protecting Steffy and the kids and that is his job now.

The Bold And The Beautiful Spoilers – Mike Guthrie Is Surprised
Sheila visits Mike Guthrie (Ken Hanes) who believes Sheila has been reprimanded to prison. Mike thanks about Sheila every night. Sheila smiles knowing she will be free.
Sheila tells Mike that she has her freedom, and the charges were dismissed. Mike doesn't know what to think about what Sheila has to say. Sheila tells Mike that Bill got the evidence illegally.
Sheila apologizes to Mike and kisses him. Sheila thanks Mike for everything he has done. Mike says Sheila always lands on her toes. Mike asks what Sheila is going to do with the rest of her life. Sheila plans to build a relationship with her family.
Be sure to catch up on everything happening with B&B right now. Come back here often for The Bold And The Beautiful spoilers, news, and updates.
For more about what's happening on your favorite soaps and more ways to connect with us, join the conversation on our YouTube Page or our Facebook Page, check out our Twitter feed, look for an update on our Instagram, follow us on Threads , Always stay up-to-date with us on Google News, or drop us an e-mail HERE! See you there!