B&B Recap And Spoilers Tuesday, March 21: Steffy Worries, Deacon And Sheila's Goodbye, Bill Frustrated
The Bold And The Beautiful spoilers for Tuesday, March 21 reveal things are hopping at Forrester Creations as Thomas Forrester (Matthew Atkinson) premieres a new dress. The model flirts with Thomas but he is more focused on work. Thomas asks Steffy Forrester (Jacqueline MacInnes Wood) if she has talked to Ridge Forrester (Thorsten Kaye). Ridge tries to get Bill Spencer (Don Diamont) to go back home to Sheila Carter (Kimberlin Brown). Deacon Sharpe (Sean Kanan) calls Sheila and asks her to come over. Bill has worked too hard for this to fall apart now.
The Bold And The Beautiful Spoilers – Steffy Forrester Is Concerned
Steffy wonders if Ridge wants to come back to the company. Thomas says Steffy is starting to worry. Hope Spencer (Annika Noelle) arrives and brags about the new dress. Thomas wants a new and improved Hope for the Future. Steffy is concerned by the looks between Hope and Thomas. Hope and Thomas discuss a new sketch. Hope tells Thomas it is good to have him back. Hope says they will create a lot of buzz together. Steffy remembers Thomas telling her that Hope thinks he is hot.
Thomas and Hope discuss another design before he is called away to the showing room. Hope picks up on Steffy's concern. Hope says this connection surprised her too. Steffy insinuates there is something more going on. Hope asks if Steffy thinks she is being unprofessional. Steffy wonders if Hope is going to be able to work with Thomas. Steffy wonders how this is going to work out professionally. Steffy is concerned about Liam Spencer's (Scott Clifton) and hers. Hope asks what Steffy is talking about.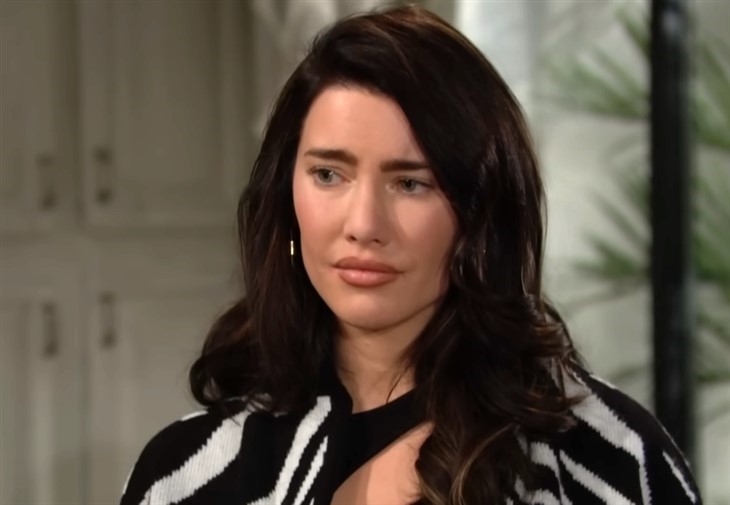 B&B Spoilers – Deacon Sharpe Attempts To End Things With Sheila Carter
The Bold And The Beautiful spoilers indicate Sheila agrees to come to see Deacon and gets ready to leave. Sheila arrives and tells Deacon she cannot stay, she has to get back to the house before Bill comes home. Deacon tells Sheila he put a lot on the line for her. Sheila says they don't have time for that today. Deacon says they cannot be together anymore. Deacon tells Sheila about Hope stopping by earlier. Sheila wants to be more careful, Deacon says they have to stop seeing each other. Deacon agrees that he cannot stop seeing Sheila.
The Bold And The Beautiful Spoilers – Bill Spencer Wants This Sting Operation Over
Bill wants to do something more drastic. The FBI agent wants him to stay on track, it's working. The FBI agent tells them that Sheila is at Deacon's. Bill and Ridge want to get proof that Sheila has committed first-degree murder. Bill knows Sheila will leave if she figures out this is a setup. Bill is sick of saying he is in love with Sheila. Ridge tells Bill he knew this would be a challenge. Ridge says none of them can let their guard done. Bill teases Ridge about thanking him.
Bill is concerned about the time he will never get back because of Sheila. Ridge tells Bill he is executing this very well. Bill doesn't need a pat on the head. Bill has to convince Sheila that he is on her side. Ridge tells Bill to stay focused and get the information they need. Bill thinks this thing with Sheila and Deacon could be a problem. Bill has to be Sheila's protector. Sheila telling everyone to get lost annoys him. Ridge doesn't want to like Bill but they are going to put Sheila away because of Bill.
Bill says this is way past what they thought they would have to do. Bill has had to reach for things he put away a long time ago. How long does Bill have to play this game? Ridge tells Bill until he gets the information they need. They need Sheila's confession.
Be sure to catch up on everything happening with B&B right now. Come back here often for The Bold And The Beautiful spoilers, news, and updates.